Congo Ex-Vice President at ICC in First Witness-Tampering Trial
by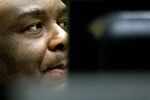 Former Democratic Republic of Congo Vice President Jean-Pierre Bemba and four Congolese nationals suspected of corruptly influencing witnesses appeared before the International Criminal Court Tuesday in its first witness-tampering trial.
The accused face charges of offenses against the administration of justice under Article 70 of the Rome Statute, The Hague-based court's founding treaty.
ICC Prosecutor Fatou Bensouda alleges that since early 2012, defense witnesses testifying in Bemba's now-concluded trial on charges of war crimes were given money and instructions to provide evidence and testimony that they knew to be false or forged. Bemba's war-crimes trial concluded in November 2014 and a verdict is expected later this year.
The four other accused are Aime Kilolo-Musamba, Bemba's lead defense counsel; Jean-Jaques Mangenda Kabongo, also part of Bemba's defense team; Fidele Babala Wandu, a member of the Congo's parliament and deputy secretary-general of Bemba's Movement for the Liberation of Congo; and Narcisse Arido, a defense witness in the case.
Before it's here, it's on the Bloomberg Terminal.
LEARN MORE