China's Li Spends on Fast Rail Like It's 2010 to Cushion Economy
Bloomberg News
Premier Li follows Wen with emphasis on rail to boost growth

Yes, in my back yard: Protests erupt when rail doesn't arrive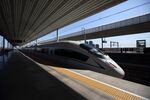 Chinese Premier Li Keqiang is borrowing a page from his predecessor's playbook to stimulate the economy: investing in rail.
While Li has pledged not to repeat Premier Wen Jiabao's spending binge during the financial crisis, he's encouraging investment in high-speed rail at home and taking on the role of salesman for China's railway industry abroad.
Rail spending this year is likely to exceed the previous peak in 2010, and be maintained at about 850 billion yuan ($133.6 billion) per year for the 2016-2020 period, according to UBS Group AG. The nation's top economic planning agency decided this week to build three rail links in southwestern China, eastern Jiangsu and central Hubei provinces with investment of 109.3 billion yuan, according to the National Development and Reform Commission's website.
"It's part of the infrastructure build up," said Wang Tao,a China economist with UBS in Hong Kong. "The government will intensify policy support, it will do whatever it takes to put a floor under growth. It is about a floor under growth so we don't expect a growth rebound."
For Li, rail spending "kills several birds with one stone," cushioning the economy in the short-term while boosting efficiency in the long-term, according to a statement released by the government last month.
While the unprecedented scale of the rail boom since 2008 has spurred concern some projects would be underused, as some Japanese projects did during the country's infrastructure binge in the 1990s, China is getting results. The 1,318-kilometer (819 miles) Beijing-Shanghai high-speed line started turning a profit last year, three years after opening, according to state media.
The link between China's two most important cities cut travel time to less than five hours, from more than 12 hours, while a one-way fare of 555 yuan for a second-class seat makes it a cheap alternative to air travel.
By contrast, the 450-mile trip from Boston to Washington takes almost seven hours on Amtrak's Acela Express, a U.S. government-funded high-speed route, and costs about $300 one way.
A line from Beijing to downtown Tianjin, a 39 minute express, has proven so popular that a second line will now be built. The NDRC this month also approved a plan to develop 818 kilometers of high-speed rail along the route from Beijing to Chongqing in the nation's interior, helping to cut the travel time to eight hours from 18 hours.
A high-speed line from Beijing and the Binhai area near Tianjin opened Sept. 21, cutting travel time to an area officials hope will become a thriving financial center. A Chengdu-Chongqing line has started safety trials and stands to cut the travel time between the two cities to an hour.
"China will need an extensive railway network, and the government is just putting forward its spending plans to stabilize growth," said Robin Xu, an economist for UBS's securities unit in Shanghai.
China enjoys clear "catch-up" advantages versus developed nations, which see smaller marginal gains from infrastructure spending, said Mark Williams, chief Asia economist at Capital Economics Ltd. in London. That's why China's investment may pay off more than Japan's in the 1990s, he said. 
Still, the rail spending is being accompanied by a fresh buildup of debt, adding to a pile that has swollen since Wen's stimulus. China Railway Corp., formed from the operating assets of the nation's former Ministry of Railways, is on pace to be the biggest issuer of onshore debt for a fourth straight year.
Li has urged the rail industry to open up more to private investors. In an inspection of China Railway last month, Li said rail spending can't rely on state funds alone, while China Railway this month issued guidelines to make it easier for private investors to get in.
The government is also pushing for high-speed rail to become a key export, with officials pushing for projects in Thailand, India and Africa. A China Railway Group-led consortium and XpressWest Enterprises LLC has agreed to build a high-speed railway linking Las Vegas and Los Angeles, the first such Chinese-made project in the U.S., and China Railway won the contact to build the 770-kilometer high-speed Moscow-Kazan line in central Russia.
CRRC Corp., China's state-owned railcar maker, plans to double foreign sales to as much as $15 billion in the next five years, according to Yu Weiping, vice president of the company. This month he attended the ground-breaking ceremony for the company's planned plant near Boston, where it will assemble new cars for the city's subway.
China's railway investment took off in the late 2000s when then-Premier Wen decided to use massive government spending to insulate China from a plunge in external demand through the global financial crisis. Investment surged 79 percent in 2009 and reached a record 842.65 billion yuan in 2010.
The boom faltered amid corruption charges in 2011 and a deadly 2012 derailment that led to the downfall of former railway minister Liu Zhijun, a key backer of the rail expansion.

The government increased rail spending twice in 2014, to 800 billion yuan, as economic growth slowed to the slowest pace in a quarter century. Li has set an open-ended spending target of at least 800 billion yuan for this year, making it easier for him to ramp up spending if needed. In the past, spending has tended to accelerate in the second half of the year.
"China needs railway spending to stabilize growth for the moment, and to pave the way for long-term development in the future," said Zhao Xijun, a finance professor at Renmin University of China in Beijing.
— With assistance by Clement Tan, and Xin Zhou
Before it's here, it's on the Bloomberg Terminal.
LEARN MORE