Cameron Says Deal With Assad to Fight Islamic State Won't Work
Thomas Penny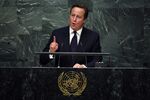 U.K. Prime Minister David Cameron said the only way to build a secure Syria is to "eradicate" both President Bashar al-Assad and the Islamic State movement.
Speaking in New York on Tuesday before a meeting of the coalition against the extremist Islamist group, also known as ISIL, Cameron said Assad cannot be part of Syria's future and reiterated his call for him to be tried for war crimes.
"I know there are some people thinking ISIL are even worse than Assad and shouldn't we cut a deal with Assad and team up and take on ISIL," Cameron said in an interview with CBS television's "This Morning" show. "It sounds enticing, but even if you thought it was the right thing to do, which it isn't, it wouldn't work."
The crisis in Syria is "the most difficult and intractable problem" that the U.S. and the U.K. face as they try to find a way to end the country's four-year-old conflict, which has left hundreds of thousands of people dead and millions displaced. The coalition should be willing to work with Russia and Iran to find a solution, Cameron said.
"I will work with anybody to build a Syria that's free of Assad and free of ISIL," Cameron said. "We'll never have a secure Syria until both those things are eradicated."
Work to train moderate Syrian forces "hasn't been successful enough," Cameron said. More needs to be done to build opposition to Assad and help create a credible alternative government, he said.
'Recruiting Sergeant'
"We need a transition, but at the end of that Assad can't be the head of Syria," the prime minister said. "Assad is one of the recruiting sergeants for ISIL because of what he has done to his people. He's one of the reasons that people are flocking to fight for ISIL."
The United Nations imposed sanctions on Monday against a group of four British jihadists who traveled to fight for Islamic State in Syria and have been using the Internet to recruit others to join them.
The two men and two women are banned from traveling and have had their assets frozen, the UN Security Council said in a posting on its website Monday. It is the first time British fighters in Syria have been subject to sanctions.
Earlier on Monday, Cameron discussed ways of disrupting Islamic State's finances in a meeting with Iranian President Hassan Rouhani. The two leaders agreed on the need to identify who's buying the oil that pays for the group's activities.
Before it's here, it's on the Bloomberg Terminal.
LEARN MORE