All Eyes on Crowdfunded Loans Tucked Into Commercial Real Estate Bonds
Morgan Stanley points to crowdfunding in CMBS deals.
By and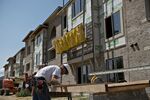 Morgan Stanley analyst Richard Hill has been digging around in the monthly remittance reports that accompany bonds backed by commercial real estate loans, known as commercial mortgage-backed securities, and he's found something interesting.
Three loans worth a collective $71 million, which were made to real estate investment firm Colony Hills Capital and underpin two CMBS deals, have found their way to special servicing. (That's structured-finance-speak for something unusual has happened to them). Commentary from the servicer "indicates that the transfers were due to a pledge of interest to a restricted party," Morgan Stanley said.
The loans are secured by five multifamily properties in Mobile, Alabama, according to the bank. Most intriguingly, Morgan Stanley says the properties comprised a portfolio that received $12 million of crowdfunding on EarlyShares.com. The ad for that portfolio can still be viewed online.

Real estate has been billed as the next frontier for crowdfunding, with backers including Michael Burry, the hedge fund manager of Big Short fame. As Hill puts it, crowdfunding is an "an untested ownership structure in CMBS," which makes the future of these three Colony Hill loans something to watch.
"The question becomes, how many of these are showing up in CMBS and, more importantly, what happens when these things go bad?" Hill said in an interview. "I really don't know."