GoPro's CEO Has Lost $1.4 Billion This Year
by and
Founder's $287 million pay package, biggest in U.S., declines

Stock drops as markets fall, investors fret Apple competition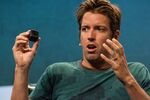 Nick Woodman, the billionaire founder of action camera-maker GoPro Inc., has seen his fortune fall $1.4 billion this year amid a market downdraft and concern mounts about competition from Apple Inc. and other companies.
GoPro is down 53 percent in 2015. Woodman's net worth is down 46 percent for the year to $1.6 billion, according to the Bloomberg Billionaires Index, buoyed by cash from sales of GoPro shares. Apple is up about 2 percent this year, according to data collected by Bloomberg.
The decline comes even as the company has sought to expand its reach, including a deal with Toyota Motor Corp. to use GoPro as the on-board camera for its 2016 Tacoma pickups, and the hiring of Hulu's Charlotte Koh as head of a newly created division to produce features and series.
GoPro's rout has also hit Woodman's compensation. He collected $287.2 million last year, mostly in restricted stock, which made him the highest-paid executive in the U.S. One-third of the shares paid out immediately. Another two-thirds were earned based on price targets the company hit in January -- the first month of a three year performance period. Those will pay out through June 2017, according to the company's proxy.
He remains the highest-paid executive in the U.S., according to the Bloomberg Pay Index, though his compensation has fallen to $136.3 million. The second-highest earning U.S. executive, Liberty Global Plc Chairman and CEO Michael Fries, has seen the value of his 2014 pay fall to $119.4 million from $132 million. Elon Musk, the founder of Tesla Motors Inc., is No. 3 with a current value of $115 million.
Jeff Brown, a spokesman for San Mateo, California-based GoPro, declined to comment on Woodman's net worth and pay.
Before it's here, it's on the Bloomberg Terminal.
LEARN MORE