VW Labor Leaders Said to Balk at Big Severance for Former CEO
by and
IG Metall's Huber among those seeking to thwart a big payout

Former CEO Winterkorn received $17.8 million in compensation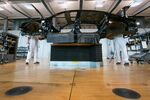 Former Volkswagen AG Chief Executive Officer Martin Winterkorn, among Germany's highest-paid executives before stepping down last week, might not get the final payout he anticipated amid opposition from labor leaders.
Interim Chairman Berthold Huber, an official with the IG Metall union, and other worker representatives are against granting Winterkorn a big payout, said people familiar with the matter, who asked not to be identified because the discussions are private. Winterkorn's role in rigging diesel engines to cheat emissions tests remains under investigation, and labor leaders worry that employees could suffer from the cost of the cleanup. 

Winterkorn's close ties with unions, which helped him survive a power struggle with former Chairman Ferdinand Piech in April, have rapidly deteriorated as the scandal widens. Prosecutors in Germany on Monday opened a criminal investigation into Winterkorn's role in duping regulators and customers with software in some diesel engines that artificially cut emissions under test conditions.
His compensation as Volkswagen CEO totaled 15.9 million euros ($17.8 million) last year, and he has amassed a pension of 28.6 million euros, according to the Wolfsburg, Germany-based carmaker's 2014 annual report. Under certain circumstances, Winterkorn can collect severance equal to two years of remuneration.
While the severance package kicks in if the supervisory board terminates Winterkorn's contract early, there's a caveat. If the board ends his employment for a reason for which he is responsible, then severance is forfeited, according to company filings. Winterkorn asked for his contract to be terminated, according to Volkswagen.
No Knowledge
The executive committee of Volkswagen's supervisory board said last Wednesday that Winterkorn had no knowledge of the manipulation of emissions data, backing his own assurance that he wasn't aware of any wrongdoing on his part. At a meeting of the 20-person panel on Friday, the group reviewed documents from four years ago that flagged the illegal software and had not been acted on by executives, said one person familiar with the meeting.
Labor leaders may also press Winterkorn to step down as CEO of Volkswagen's dominant shareholder Porsche Automobil Holding SE, the people said. He's also still chairman of VW's publicly traded Audi AG unit as well as the group's truck holding company, among other positions. VW and Porsche Holding representatives didn't respond to e-mails and phone calls requesting comment.
Volkswagen is still scrambling to figure out what to do with 11 million VW, Audi, Skoda and Seat vehicles that have rigged diesel engines. Volkswagen has already set aside 6.5 billion euros in an initial tally of repairs and other expenses in a scandal that has wiped 27 billion euros from Volkswagen's market value.
Before it's here, it's on the Bloomberg Terminal.
LEARN MORE