Unlike Boehner, McCarthy Has Pushed to Abolish Senate Filibuster
The leading contender for House speaker could threaten a Senate rule often defended by Majority Leader Mitch McConnell.
By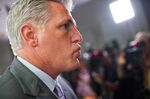 The man who appears likely to succeed outgoing House Speaker John Boehner is a vocal proponent of abolishing the 60-vote threshold in the Senate in order to pass Republican-sponsored bills.
Kevin McCarthy, the House majority leader, endorsed the so-called nuclear option earlier this year when Democrats used the filibuster to block a House-passed bill to undo President Barack Obama's executive actions on immigration.
"I think they should change the rules," the California Republican said March 1 on NBC's Meet the Press.
"That's not nuclear, when 57 percent of the American representation says it's wrong. That's not in the Constitution," he said. (McCarthy is correct that the filibuster is not protected by the Constitution; a simple majority of senators can change the rule.)
Recently, McCarthy reiterated his call to end the filibuster after Democrats blocked government funding legislation that stripped money for Planned Parenthood.
"We all watched 'Mr. Smith goes to Washington,' and we understood what a filibuster was, right? You stood on the floor and talked. Today that's not the case. So inside the Senate you have to have 60 votes, not a majority. That's not in the Constitution; that's a rule," McCarthy said Sept. 18 on Fox News.
"And if there's one thing of a frustration that I have ... the Senate has got to work," he continued. "And the Senate cannot allow a simple minority to be able to hold up and let Iran have a nuclear weapon."
Senate Majority Leader Mitch McConnell, a Kentucky Republican who often defends institutional tradition, brushed off the calls. Boehner hasn't pressured him. Some Republicans believe it is not worth changing a longstanding rule while the bigger obstacle is Obama's veto pen. Although the House has no say in Senate rules, the next House speaker could, with the backing of the conservative base, pressure Republican senators on the matter.