Putin Calls for UN Mandate to Help Assad Fight Islamic State
by and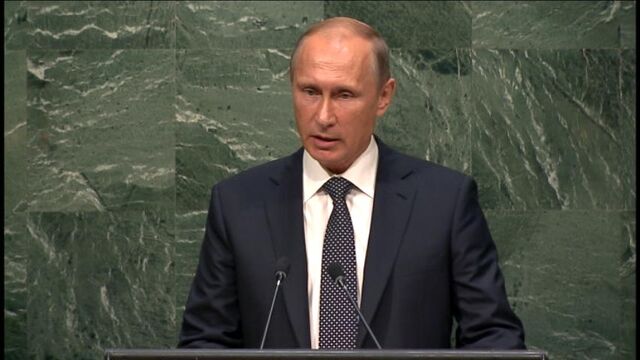 President Vladimir Putin called for a United Nations resolution to endorse a coalition to fight Islamic State and said the effort should include Syrian President Bashar al-Assad's forces.
Addressing the world body before a meeting with U.S. President Barack Obama, the first time the two men have met in almost a year, Putin said Monday that Assad's army is the only force on the ground fighting the radical Islamist group, which has seized swaths of Iraq and Syria.
"We propose discussing the possibility of adopting a resolution on the coordination of all forces fighting Islamic State," Putin said. It is "a major mistake" to refuse to cooperate with Assad's forces in combating the terrorist group, he said.
Russia has sent troops and fighter jets to Syria, where a civil war has displaced millions sending a flood of refugees to Europe, as Putin seeks to reassert his country's diplomatic sway in the world and shore up its embattled ally Assad. With no end in sight, the Russian leader's argument that the Syrian leader must be part of a settlement is finding traction in Europe.
Obama repeated a call for an end to Assad's rule, while saying the U.S. is ready to work with Russia and Iran to help end the Syrian conflict.
"Realism dictates a compromise will be required to end the fighting and ultimately stamp out ISIL," Obama told the UN, using an acronym for Islamic State. "But realism also requires a managed transition away from Assad and toward a new leader."
Before it's here, it's on the Bloomberg Terminal.
LEARN MORE