Political Appeal of Bashing American Unions May Have Peaked
By
Gallup poll finds support for labor at highest since 2008

Walker ended presidential campaign built on clash with workers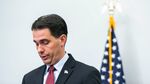 Unions might never recover the strength they had decades ago, but recent signs suggest renewed support for labor, or at least an end to its run as a Republican bogeyman.
After building a campaign around his battle with government workers, Wisconsin Governor Scott Walker abruptly ended his presidential campaign Sept. 21. His decision came a month after a Gallup Poll found that support for unions jumped 5 percentage points in the past year to its highest level nationwide since 2008.
"People are waking up and realizing that unions are important to establishing balance in our economy," said Stephanie Bloomingdale, secretary-treasurer of the Wisconsin State AFL-CIO. "People are very anxious about what's happening to the American middle class. And income inequality is at an all-time high."
Women Support
In recent weeks, labor organizations have seen concrete advances after years of bad news. Days after Walker's exit, workers at an Alabama truck-parts factory voted 2-to-1 to join the United Automobile Workers after years of organizing failures throughout the South. In Missouri, Republican legislators on Sept. 16 fell a dozen votes short of overturning Democratic Governor Jay Nixon's veto of a right-to-work bill.
Public approval of unions is up 10 percentage points since 2008, to 58 percent, according to the Gallup survey released Aug. 17. Women and people ages 18 to 34 provided the strongest support.
Walker, who restricted most collective-bargaining rights for state public employees in 2011, attempted to revive his sliding presidential poll numbers by vowing Sept. 14 to do the same at the national level. His support continued to plummet, and a week later he was out of the race. 
New Jersey Governor Chris Christie, who gained fame by battling teacher unions in his state, remains mired in back of the Republican presidential pack, with polls showing him in the low single digits.
"For a politician looking to reach a broad national audience with an anti-union strategy, they should look at the data," said Frank Newport, editor-in-chief of the Gallup Poll. He called the drop in union support in recent years an aberration and said the recovery is like a "rubber band bouncing back to where it was."
Part of the reason for the issue's flagging potency may be that the union movement has ever less muscle. Fifty years ago, about one-third of the workforce was unionized. Last year, about 11 percent was, according to the U.S. Bureau of Labor Statistics.

Alabama Action
Alabama and South Carolina lured automakers with promises of financial support, training for workers and a free hand for management. The vote last week to join the UAW by workers at the Commercial Vehicle Group in Piedmont, Alabama, is an unusual gain. Still, the plant employs only about 150 workers.
Matt Patterson, executive director of the Center for Worker Freedom, said the vote was an anomaly for unions.
"They're still shrinking," said Patterson, whose Washington-based nonprofit lobbies against unionization. "Even though there are victories, like in Alabama, they're going to have to have a lot more momentum than this to reverse this catastrophic free-fall of the past few decades."
Union setbacks in recent years included right-to-work laws in the industrial heartland states of Indiana, Michigan and, this year, Wisconsin, the 25th state to do so. Those laws, which let employees bypass union dues and membership, have been championed by business groups and many Republicans who say they stimulate economic development. Critics argue they drive down wages and hurt middle-class earning power.
The issue is now being fought out at the local level. In Kentucky, a dozen counties declared themselves right-to-work jurisdictions. Those moves are being challenged by unions in federal court.
Missouri, which has solid Republican legislative majorities, failed to override the veto of a right-to-work measure by Nixon, a Democrat. Twenty Republicans voted against the override.
"It's probably going to take a new governor to get this done," said Dan Mehan, president and chief executive officer of the Missouri Chamber of Commerce and Industry.
Public Backlash
Illinois Republican Governor Bruce Rauner is insisting that local units of government can declare themselves right-to-work zones. He has also pushed for the elimination of collective bargaining in local contracts. The Democratic-controlled legislature has rejected both proposals, adding to a budget impasse that enters its third month this week.
The Gallup poll might suggest the need for politicians such as Rauner to re-calculate.
"Republicans might be moderating their approach to attacking organized labor," said Robert Bruno, a Chicago-based assistant professor of labor and industrial relations at the University of Illinois. "There's a backlash against the growing income divide, and organized labor is benefiting from that."