Meet the Economic Team Helping Mulcair Tack to Canada's Middle
by
Leader brings former Liberal operatives into NDP inner circle

Advisers include lawyers, lawmakers, labor-movement officials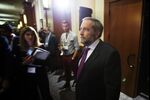 Tom Mulcair, seeking to bring the New Democratic Party to power in Canada for the first time, is leaning on a pair of operatives from outside its traditional leftist base as he moves toward the political center.
The NDP leader is relying on longtime allies Geoffrey Chambers and Alain Gaul, steeped in business and political experience, to vet economic issues and other proposals during this campaign, according to party insiders who spoke on condition of anonymity.
With socialist roots and otherwise stocked with labor-movement economists, the NDP has been trying to put water in its economic wine under Mulcair, including pledges to balance the budget and abandoning a one-time party measure to increase the tax on capital gains.
Rounding out Mulcair's economic team ahead of the Oct. 19 election are a pair of former leadership rivals, a former provincial finance minister and a cadre of labor-friendly loyalists. The following, based on discussions with six party insiders, is a list of the most influential advisers and economists on Mulcair's policy and the role they may play if the NDP wins power.
Calls for official comment weren't returned.
The Outsiders
Chambers is a Quebec railway man, aide and longtime friend from Mulcair's previous life as a Liberal cabinet minister in Quebec. Chambers is said to now head Mulcair's informal campaign advisory group -- and is said by people familiar with his role to be helping the leader focus the campaign on more pragmatic, concrete promises. Chambers and Mulcair worked together at Alliance Quebec, a group promoting English language rights in populous, French-speaking Quebec. The two men both campaigned against Quebec separatism. Chambers is also a former vice-president of the Quebec Liberal Party, in which Mulcair served as environment minister. Mulcair quit cabinet rather than accept a demotion, eventually running for the federal NDP -- which does not have a provincial branch in Quebec -- and winning a seat in 2007. He led a breakthrough in the province in 2011 and won the party leadership in 2012. Chambers served as Mulcair's Quebec adviser before the campaign.
Gaul, Mulcair's chief of staff, was brought on early this year to help retool as party fortunes sagged. Like Chambers, he's a trusted voice from Mulcair's time in provincial government. In his autobiography, Mulcair recalls being assigned Gaul as his first chief of staff when he became environment minister. "You weren't my first choice," Mulcair told him, according to the book. "Neither were you mine," Gaul replied. With that, Mulcair "knew instantly that we were going to get along," he wrote. Gaul is also a lawyer who previously worked with Davies Ward Phillips & Vineberg in Montreal, handling insolvency and corporate restructuring. He's now one of the closest aides to the NDP leader.
The Top Economist
Rob Gillezeau completed his doctorate last year at the University of Michigan, where he studied the labor movement, the public sector and economic history. His research focused on the economic impact of social programs, fitting him snugly in his party's social-democratic wing. He's now Mulcair's chief economist and point-man on economic policy, including for gathering the input of outside voices on NDP policy, such as the fiscal revenue-and-expense document the party released two weeks ago.
The Potential Ministers
Among Mulcair's incumbent lawmakers, three represent his go-to public voices on the economy. Guy Caron, who represents a rural Quebec district, holds a masters in economics and worked previously at the Communications, Energy and Paperworkers Union of Canada. Peggy Nash, who represents a central Toronto district, is a former Canadian Autoworkers Union negotiator and party president. And Nathan Cullen, from a remote British Columbia district, is a former consultant with international-development experience in Latin America.
Nash and Cullen were among those Mulcair defeated for the party leadership. Caron, Nash and Cullen served as official opposition critics for natural resources, industry and finance, and would be prominent candidates for cabinet posts in a Mulcair government. Caron and Nash, in particular, have spoken for the party on economic issues during this campaign.
Two other candidates have taken, or held, economic roles. Andrew Thomson served previously as finance minister in a provincial NDP government in Saskatchewan and has since moved to Toronto, where he is running against incumbent Conservative Finance Minster Joe Oliver. The NDP has relied heavily on Thomson as one of its few candidates with cabinet experience, sending him out regularly to face cameras on economic issues.
Erin Weir was one of the "only number crunchers" in the NDP's campaign war room when the global financial crisis struck in 2008, according to Ian Capstick, a former staffer now a consultant in Ottawa. Weir, who has since moved to the United Steelworkers and is seeking a seat in Saskatchewan, was "truly indispensable during that chaotic time," Capstick said.
The Labor Stalwarts
Mulcair's NDP has relied on like-minded economists and labor figures for credibility and support. Andrew Jackson is the senior policy adviser at the Broadbent Institute, a think-tank set up by former NDP leader and party icon Ed Broadbent. Jackson was previously chief economist for the Canadian Labour Congress, an umbrella organization for Canadian unions that's closely tied to the NDP. He's one of many labor-movement economists that Mulcair's inner economic team, led by Gillezeau, regularly consults. A current CLC economist, Angella MacEwen, was among those to praise the NDP's fiscal document. And Broadbent himself remains a prominent figure, one who has in the past been at odds with Mulcair.
The Professor
Of academics, Pierre Fortin is the one whose work is cited most regularly by Mulcair -- in particular, the Université du Québec à Montréal economics professor's study on the GDP impact of a subsidized childcare program in the province. One of Mulcair's signature proposals is expanding that program nationally, creating a network of subsidized childcare spaces. Fortin's research found Quebec's childcare program would boost real gross domestic product by 1.7 percent as parents re-enter the workforce. Fortin also applauded the "balanced, responsible and professional" fiscal plan presented by the NDP in the campaign and attended Mulcair's daycare announcement last year. Fortin says he has no formal role with the NDP or any other party.
Before it's here, it's on the Bloomberg Terminal.
LEARN MORE