McDonnell Pledges Labour Crackdown on Tax Avoiders, BOE Review
Svenja O'Donnell and Robert Hutton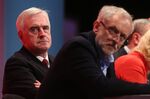 John McDonnell, the U.K. Labour Party's new finance spokesman, set out his plans for government, pledging to crack down on tax evasion by the biggest companies and review the mandates of both the Treasury and the Bank of England.
In a speech to Labour's annual conference in Brighton, on England's south coast, McDonnell -- who once described bankers as "jokers" and in 2012 pledged to revoke the BOE's control over interest rates -- sought a more moderate line, describing his party's "new politics" as competence twinned with compassion.
"Labour's plan to balance the books will be aggressive," McDonnell said Monday. "We will force people like Starbucks, Vodafone, Amazon and Google and all the others to pay their fair share of taxes."
An old ally of newly elected Labour leader Jeremy Corbyn, the hard-left activist's appointment to the opposition team's second most important job initially caused consternation amid the party's more moderate ranks, raising fears they would be unable to present a credible electoral alternative to Prime Minister David Cameron's Conservatives.
Since then, Corbyn and McDonnell have been careful to take a softer line, appointing an economics advisory panel including Nobel-prize winner Joseph Stiglitz and inequality expert Thomas Piketty to win back credibility in the academic and business community.
Not 'Usual Rant'
"I warn you this is not my usual rant; they get me into trouble and I've promised Jeremy to behave myself," McDonnell said. His aim, he said, was "ending the tax cuts for the rich and addressing the scourge of tax evasion and tax avoidance."
McDonnell named former Civil-Service head Bob Kerslake to review the operation of the Treasury, without giving further details as to what it would involve. He also promised to set up a review of the central bank, though he distanced himself from his previous comments, stating Labour would "guarantee the independence of the Bank of England."
"Of course we accept that there's a deficit," he said. "From here on in, Labour will always ensure that this country lives within its means," though "we will tackle the deficit fairly and we can do."
McDonnell promised to launch a debate on expanding the BOE's inflation-fighting mandate to include jobs, growth and earnings. And a Labour government would cut subsidies paid to companies "that take the money and fail to provide the jobs," he said.
The speech went down well with Labour activists, who clapped everything from his denunciation of government cuts to his name-checking of Stiglitz and Piketty. The attack on the tax strategies of multinational companies received a big cheer.
'Come Back'
Standing in front of the conference motto -- "Straight talking, honest politics" -- McDonnell denounced "silly slogans." And he won a large round of applause when he urged Labour lawmakers who had refused to work with him and Corbyn to "come back and help us succeed."
It's some years since a Labour economic spokesman referred to himself in public, as McDonnell did, as a socialist. Then he went one further, signing off his speech with a single word: "solidarity."
The speech drew warnings from business groups.
"The overall impression of this speech was of rather more intervention in the world of business and the economy," Confederation of British Industry Director-General John Cridland said in a statement. "There's a risk that when the economy is close to full capacity intervening in monetary policy could increase economic volatility, push up inflation and raise borrowing costs for households and businesses."
Before it's here, it's on the Bloomberg Terminal.
LEARN MORE