McCarthy to Hit Speakership Lotto With Long Odds for Success
Billy House and Erik Wasson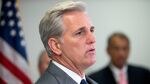 Five-term U.S. Representative Kevin McCarthy of California appears headed for an easy victory to replace U.S. House Speaker John Boehner in what has been a no-win job.
McCarthy's follow-up act may turn out to be just as difficult as Boehner's.
McCarthy, currently the No. 2 Republican as majority leader, hasn't announced his plans. "When I have a decision, I'll put it out," he told reporters Monday after giving a speech on foreign policy in Washington.
Tough tests would await him on issues that will reverberate from the 2016 presidential race to Wall Street: raising the U.S. debt limit, increasing spending on highways and reauthorizing the Export-Import Bank, all initiatives that newly emboldened conservatives oppose.
Boehner, who said Friday that McCarthy "would be an excellent speaker," hinted on Sunday he may push through some top corporate priorities before departing at the end of October. "I don't want to leave my successor a dirty barn," he said on CBS's "Face the Nation."
Conservatives are responding: not so fast.
Boehner almost certainly can accomplish one goal this week, averting a government shutdown before funding runs out Wednesday night. That would be only a temporary victory, as it sets up another shutdown fight when the temporary spending measure is set to expire Dec. 11.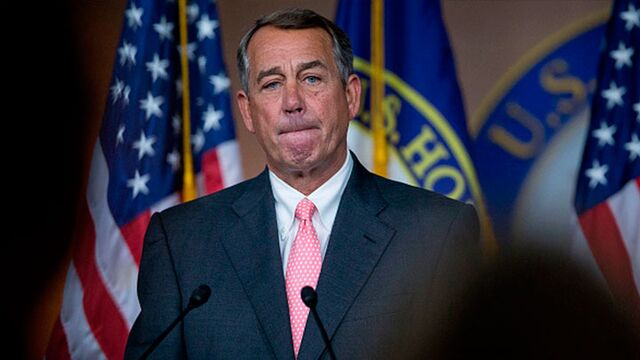 "I think the important question is, will things change? Will they change for the better or we simply replace Mr. Boehner with somebody else who will do the same thing?" Representative Mick Mulvaney, a South Carolina Republican and a Boehner critic, said on "Fox News Sunday."
Planned Parenthood
Mulvaney and 30 other House conservatives have said they won't support any spending bill that funds Planned Parenthood, the women's reproductive health provider whose services include abortion.
Boehner said on "Face the Nation" that the Senate will send the House a bill that includes funding for the organization and the House will clear it for President Barack Obama's signature with the help of votes from Democratic representatives. That's an occasional Boehner tactic that has infuriated conservatives.
Conservatives in Boehner's caucus have also sought to delay Republican leadership elections that top party members had discussed scheduling for this week. A decision to push the elections to the week of Oct. 5 would allow more time for potential McCarthy challengers to gather support.
"There is no immediate rush to elect a new speaker and this provides all of us an opportunity to weigh the decision carefully," Representative Steve King, an Iowa Republican, said in a statement.
Webster's Challenge
So far, only Representative Daniel Webster of Florida -- who got 12 votes in January against Boehner -- has said he's running for speaker. He isn't seen as a formidable challenger.
With McCarthy looking assured for the top job, races for the second, third and possibly fourth-ranking Republican leadership posts are where conservatives plan to assert themselves. By adding members in some of those spots, they could seek to temper any McCarthy tendencies toward accommodation and generally pull the Republican caucus rightward.
House Financial Services Committee Chairman Jeb Hensarling of Texas decided not to seek a leadership position and will support Budget Committee Chairman Tom Price of Georgia for majority leader, his spokeswoman Sarah Rozier said in an e-mail.
Representative Paul Ryan, the chairman of the Ways and Means Committee, also endorsed Price for the No. 2 job on Monday.
Hot-Button Issues
Resolving some hot-button issues now that are important to business could give the affable McCarthy, 50, a solid start, focusing on issues that unite Republicans and have a chance of making it into law.
He could shepherd approval of a 12-nation Asia-Pacific trade deal, the Trans-Pacific Partnership, early next year, and preside over a compromise to replace former President George W. Bush's No Child Left Behind law. He may be able to renew the federal school lunch program in a way that satisfies conservatives worried about Obama administration overreach.
On the rare, high profile occasions when Boehner cast a vote in this Congress, McCarthy has voted with the speaker 92 percent of the time.
Still, McCarthy's deep relationships with rank-and-file lawmakers may offer a stylistic advantage over Boehner's more patrician, aloof management of the House. He is likely to be a transactional leader and less antagonistic toward the base, even though he is not a firebrand.
"I think Kevin is a more ground-up than top-down type of leader," Mulvaney said.
Above all, though, conservative members will demand that McCarthy challenge Democrats and Obama more, and they may use a December shutdown fight to make that stand.
Lotto Winner
McCarthy's personal story has seen its share of good luck. Shortly after graduating from high school, McCarthy won money in the California state lottery that helped bankroll a sandwich shop -- "Kevin O's Deli."
He sold that business to put himself through California State University-Bakersfield, where he interned for Representative Bill Thomas, a former chairman of the House Ways and Means Committee. After graduating he joined Thomas's staff, then served in the state legislature and was elected to Congress in 2006.
Last year, the man ahead of McCarthy in the leadership ranks, then-Majority Leader Eric Cantor, was defeated for re-election in his primary. Then came Boehner's troubles.
What role McCarthy may play as speaker-in-waiting is unclear, should Boehner try to jam legislation opposed by conservative members through the House before leaving.
McCarthy will remain the No. 2 House Republican, a job that, at least officially, puts him in charge of scheduling votes and setting weekly legislative agendas. And he has said he opposes rechartering the Export-Import Bank, a top goal of business groups in Washington.
Leadership Reshuffling
Boehner's departure and McCarthy's anticipated rise is causing a shuffling of the ranks lower down in the Republican hierarchy.
Representative Steve Scalise of Louisiana, who is now the Republican whip, No. 3 in the leadership, has told colleagues he wants McCarthy's current job. In addition to Price, the No. 4 Republican, Cathy McMorris Rodgers of Washington, may also seek McCarthy's position.
The race for majority leader could become a referendum on the Export-Import Bank, which McMorris Rodgers supports and the others oppose. Price's candidacy could trigger an intra-party fight over higher defense spending, which he has opposed without offsetting cuts elsewhere in the budget.
Representative Dennis Ross of Florida has told colleagues he'll seek to become whip. Ross, in a statement, pledged to bring bills to a vote within 90 days on an Obamacare alternative, immigration reform and overhauling the tax code.
"It is time to advance our conservative cause in a positive way by passing legislation that forces the president to either sign bills into law or explain to the American people why he vetoed them," he said.
McHenry, Mullin
Challengers to Ross may include Patrick McHenry of North Carolina, currently Scalise's top deputy, and Markwayne Mullin of Oklahoma. The Rules Committee Chairman, Pete Sessions of Texas, may seek a different leadership position.
The House turmoil comes as Republican presidential candidates are trying to show they can govern. Some said during their second debate earlier this month that they would be willing to shut down the government in an effort to defund Planned Parenthood.
Senator Ted Cruz of Texas, a Republican presidential contender, led the charge for the 16-day partial government shutdown in 2013 over an unsuccessful attempt to defund Obamacare. He also backs closing the government unless Planned Parenthood is defunded.
Candidate Jeb Bush said Sunday he disagreed.
"That's not the way democracy works," the former Florida governor said Fox News Sunday. "It's better to elect a conservative president who pledges to do it and work with Congress."