Inside Iran: Sanctions and the Carpet-Sellers
In the bazaars of Iran's capital, the country's venerable carpet-sellers are getting ready for a return to the world stage.
by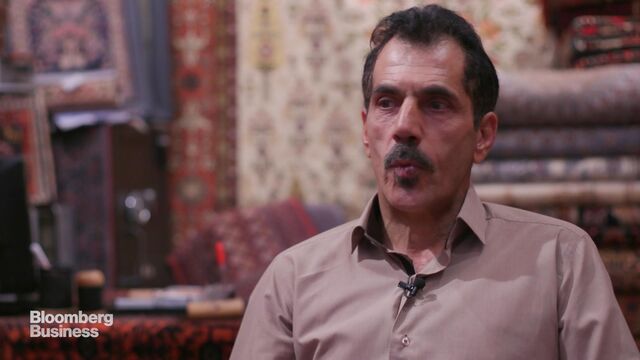 Iran's Persian carpet industry is fraying at its edges.
Once the biggest exporter of carpets in the world, the country's trade has been hit hard by Western sanctions. Exports have shrunk by 33 percent since 2009, according to Iran's state news agency IRNA, hitting $330 million in the year to March 2015. After the oil sector, the carpet industry has been the most affected. Cheaper replicas from Asia now make up the majority of imports to the West.
'The price was increasing, not day by day but every week, every month'
Exports are "more or less zero" according to Mojtabah Keshevarz, owner of Royal Persian Carpets in the capital, Tehran. 
"It was a good business," he explains. "The price was increasing, not day by day but every week, every month." The trader says one of his most expensive carpets, a pomegranate-and-walnut-dyed rug woven in Isfahan, is 100 years old and would cost any buyer around $30,000.
Keshevarz's shop is based in Tehran's (very busy) Grand Bazaar. He's usually busy dealing with customers – tourists who've come to snap up bargains before sanctions are lifted. Persian hospitality mandates lots of tea and plenty of pleasantries. In Keshevarz's eyes these people aren't mere customers, but guests. On the day we visit things are different, though: he is more interested in being on camera and telling his story.
Mojtabah Keshevarz is lucky. He was there for the good times, and has made his money. Now he's riding out the tough times in the hope that sanctions removal will revive the market. He tells us his story with a coy smile, and before we leave he tells us a dirty joke. The market may be dead for now but the personality of the traders is still very much alive.



Iran and Sanctions: What You Need to Know

Iran has faced sanctions since 1979 – July's nuclear deal only suspends U.S. and E.U. sanctions related to its nuclear programme
First UN Security Council sanctions imposed in Dec. 2006. Sanctions on Iran's banks and crude oil exports followed, as did exclusion from SWIFT and financial markets
Lack of access to international banking hits Iranian sectors reliant on imports or with big export markets
By late 2012, Iran's currency, the rial, loses around two-thirds of its value against the dollar; oil exports are slashed by more than half
By late 2013 Iran's GDP contracts by 6.8 percent. New President Hassan Rouhani has a mandate to negotiate with the West and secure a relaxation of sanctions
The July 13 agreement does not end U.S. sanctions related to human rights, ballistic missiles, or U.S. assertions that Iran supports terrorist groups in the Middle East.
By Golnar Motevalli
Before it's here, it's on the Bloomberg Terminal.
LEARN MORE