Glencore Treated Like Junk as Traders Reject Recovery Plan
by , , and
Bonds at high-yield levels as CDS show 50% default chance

`Fear trade' as China slump outweighs financial shore up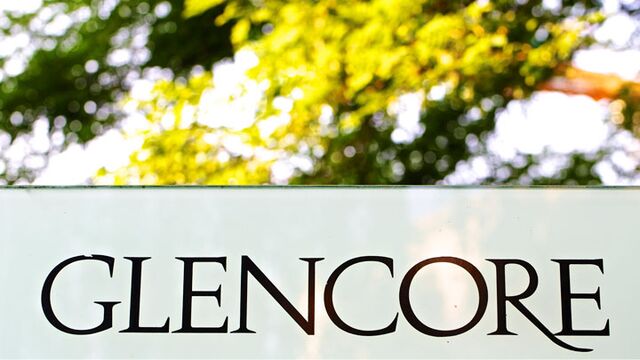 Credit markets are viewing Glencore Plc as if it's already junk.
The Swiss company wrestling with a $30 billion debt load watched its bonds plunge below investment-grade levels as credit-default swaps gave it a better than 50 percent chance of default on Monday after Investec Plc said there was little value for shareholders should low raw-material prices persist. Derivatives traders were even demanding upfront payments for the first time since 2009.

This comes after Glencore over recent weeks announced a raft of measures to shore up its balance sheet, including a pledge to cut borrowings by about a third, as China's economic slowdown hurts demand for raw materials and sends prices slumping.
"It's a pure fear trade," said Tom Voorhees, a corporate bond-trader at Brean Capital LLC in New York. Investment-grade credit investors "have less tolerance for loss," which is exacerbating selling and price declines, he said.
Glencore is striving to protect investment-grade credit ratings as it seeks an escape from a painful squeeze. For as its debt load has ballooned, China -- the engine that drove prices for everything from copper to coal to oil-- is the weakest it's been in a quarter century. And as the nation's leaders transition the world's second-largest economy to services and away from industry, hopes for a commodities revival fade.
'Skittish' Sentiment
Glencore's price slump reflects "very skittish investment sentiment" as well as weak global growth and China concern, said Lyndon Man, a London-based fund manager at Invesco Ltd., which oversees about $780 billion. A weak balance sheet is also making the company an "easy target for speculation" even after the debt-reduction plan, he said.
Both Standard & Poor's and Moody's Investors Service, which rate Glencore two levels from junk, have said this month they may downgrade the company.
Traders were demanding about 14 percent upfront to protect against a Glencore default for five years, CMA prices show. That's the equivalent of 8.5 percentage points annually, the highest level since April 2009.
Glencore's 1.25 billion euros ($1.4 billion) of 1.25 percent bonds maturing March 2021 fell 12 cents on the euro to 69 cents, the lowest since the securities were issued in March, according to data compiled by Bloomberg. The yield was 8.3 percent, which surpassed the 5.66 percent average demanded by investors to hold sub-investment grade euro-denominated bonds, according to Bank of America Merrill Lynch index data.
'Calm Nerves'
"Glencore management need to make an official announcement to calm nerves," said Darren Reece, a money manager at GAM Holdings AG in London, which oversees $127 billion. 
Glencore has sold new stock and scrapped its dividend as part of a $10 billion debt-reduction program announced three weeks ago. It has also hired Citigroup Inc. and Credit Suisse Group AG to sell a minority stake in its agricultural business, a person familiar with the situation said Friday.
With help from the market, Glencore's efforts may be enough to cut debt and revive its bonds, said Aengus McMahon, the London-based head of European high-yield research at ING Bank NV.
"They need to execute their plan, and if that is executed well then these moves look over done," he said. "It all depends on what happens to copper prices in the next 12 months."
Peter Grauer, the chairman of Bloomberg LP, the parent of Bloomberg News, is a senior independent non-executive director at Glencore.
Before it's here, it's on the Bloomberg Terminal.
LEARN MORE