Evans Says Fed Should Delay Liftoff, Inflation Risks Overblown
by
Inflation headwinds may not abate until middle of 2016

Later liftoff and gradual tightening is best path, Evans says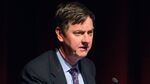 U.S. monetary policy makers should delay raising interest rates until inflation shows signs of sustained upward movement, which may not happen until mid-2016, said Federal Reserve Bank of Chicago President Charles Evans.
"Before raising rates, I would like to have more confidence than I do today that inflation is indeed beginning to head higher," Evans said Monday in remarks prepared for a speech in Milwaukee. "I think the best policy is to take a very gradual approach to normalization." 
Evans is a voting member of the policy-setting Federal Open Market Committee this year who has previously argued that the Fed should delay rate liftoff until next year.
The U.S. central bank says that it wants to be "reasonably confident" that inflation is heading up toward its 2 percent target over the medium term before raising rates for the first time since 2006. 
Overseas Headwinds
Evans cautioned that core inflation, which excludes volatile energy and food prices, would probably not have returned to 2 percent by the end of 2018, adding that a slower growth abroad and declining measures of inflation expectations may make the wait even longer.
Evans also criticized arguments made by some of his FOMC colleagues that waiting too long to begin raising rates could force the central bank to eventually tighten faster to control inflation and risk causing an economic downturn by doing so.
Committee members' latest summary of economic projections, released after their Sept. 16-17 meeting, showed they expect the Fed's preferred measure of inflation to reach 1.9 percent by the end of 2017 and hit 2 percent by the end of 2018. This gauge of price pressures has been under the Fed's goal since April 2012 and rose 0.3 percent in the 12 months through August.
Overblown Concerns
"Given how slowly underlying inflation would likely move up from the current low levels, we probably could keep inflation in check with only moderate increases in interest rates relative to current forecasts," Evans said. "The concerns being voiced about the risks of rapid increases in policy rates if inflation were to pick up seem overblown."
The Chicago Fed chief voiced confidence in the outlook for the U.S. labor market, which he said should continue to improve, eventually leading to higher inflation. The unemployment rate was 5.1 percent in August, near the 4.9 percent rate the median committee member deems consistent with maximum employment.
"My own assessment is in line with this projection," Evans said. But he added that the unemployment rate isn't currently capturing all of the slack in the labor market, and cited downside risks to the outlook for continued improvement emanating from slower growth overseas.
"A later liftoff and a gradual subsequent approach to normalizing monetary policy best position the economy for the potential challenges ahead," he said.
Before it's here, it's on the Bloomberg Terminal.
LEARN MORE