EUR/GBP Volatility May Rise as Farm Subsidies Kick-In: Analysis
by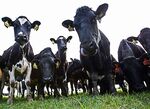 Rise in the pound's volatility against the euro last week may continue into end-September due to the annual payment of European Union farm subsidies to the U.K., Bloomberg strategist Vassilis Karamanis writes.

What's This About
Single Farm Payment is a subsidy that U.K. farmers receive from the EU in order to support and stabilize their income under EU's Common Agricultural Policy. For farmers who opt to receive their payment in pounds, the exchange rate used will be the European Central Bank fixing rate on the last trading day of September. Each year, a single bank wins the mandate to convert the full sum of farm subsidies, which amounted to 3.3 billion euros for the financial year 2013.
What Happened Before
Front-end implied volatilities in EUR/GBP have shown a tendency to rise in the final days of September each year. Between September 19 to September 30 2014, 1-week implied volatility rose over 200 basis points to reach 8.16 percent. A similar pattern occurred in 2013, 2012, 2011 and 2010. This pattern is largely due to FX bank desks positioning themselves ahead of the conversion in anticipation of sharp fluctuation in EUR/GBP price action, according to traders in London and southern Europe who asked not to be named as they are not authorized to speak to the public.
What's the Market Impact
EUR/GBP front-end volatility may steepen further this week as farm subsidies reinforce last week's momentum from quarter-end flows and re-building of long volatility positions. Valentin Marinov, head of G-10 FX strategy at Credit Agricole CIB, said in a note that EUR/GBP should remain under pressure this week as traditional month-end flows are offset by sterling flows from EU farmers' subsidy. EUR/GBP rose almost by 3 percent from September 22 low at 0.7236 to September 24 high of 0.7411, only to be capped by 233-day Daily Moving Average at 0.7385. Investors will focus on a large 0.73 expiry on September 30 that amounts to 1.61 billion euros.
Note: Vassilis Karamanis is an FX and rates strategist who writes for Bloomberg. The observations he makes are his own.
Before it's here, it's on the Bloomberg Terminal.
LEARN MORE