Deutsche Bank: Falling Income Inequality Could Actually Hurt the American Economy
A narrowing gap between top and bottom wage earners might be bad for U.S. GDP.
By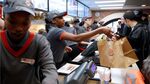 What's good for income equality might not be good for the American economy — at least in the short term.
So say analysts at Deutsche Bank, led by Global Head of Rates Research Dominic Konstam, who observe that lower-wage earners have been gaining on their higher-paid peers.
"In August, workers in the highest-paying industries (information services, mining and logging, financial services and construction), earning an average of $27 per hour, saw their nominal wage rise just 1 percent from a year ago, a rate of growth that's at a 20-year low," they wrote. "In contrast, workers in the lowest-paying industries (leisure and hospitality, trade transportation and utilities, and other nonspecific services), averaging $17 an hour, logged a 2.1 percent annual increase in their pay."

The bottom cohort has seen wage growth in excess of 2 percent for two and a half years. And because of this, discretionary spending — or household spending on items other than food, clothing, energy, and accommodation — could be set to decelerate over the next few quarters, according to the analysts.
Higher-wage earners tend to spend more of their money on discretionary items like cars, recreation, health care, and household goods than those at the lower end of the income spectrum. And since these types of expenditures have become a much bigger chunk of total personal consumer spending than they were a half-century ago, they have a better correlation with U.S. economic growth, says Deutsche Bank.
Konstam's team finds that changes in wage growth between top and bottom earners tends to lead fluctuations in discretionary spending by about six quarters:

"[T]he current wage dynamics suggest that a high level of private consumption growth could be unsustainable," Deutsche Bank concludes, as higher-paid Americans become less willing to boost spending on discretionary items.
The U.S. economy is on the verge of decoupling from the rest of the world and the American consumer has been the nation's economic engine, with household consumption rising at an annualized rate of 3.6 percent in the second quarter. As such, the type of slowdown that Deutsche Bank sees in the cards could have profound ramifications for the global economy.
"Given recent growth rates, a deceleration could imply 2016 spending slows to 2 percent year-over-year and 2017 spending is flat," wrote Konstam's team. "This could be a considerable drag on the economy given the hefty weight of consumption in GDP."
Deutsche Bank's short-term view runs contrary to what's become economic orthodoxy: that a decrease in income inequality is positive for economic growth. The concept underpinning this is how marginal propensity to consume differs depending on how much you make. In other words, if you give a billionaire $100, he'd be likely to save the overwhelming majority. But if you gave that same amount to a minimum-wage earner, he'd almost certainly spend most, if not all, of those funds. As such, when a greater share of national income goes to those at the lower end of the scale, aggregate consumer spending should be higher.
But Deutsche Bank reasons that where high- and low-wage earners deploy excess cash is what really matters:
We think the reason that wage growth "predicts" discretionary spending is as follows: assume that the lowest wage earners are inflexible in choosing between discretionary and non-discretionary spending, i.e., for any level of income they will allocate the majority or the entire portion to basic necessities. Then a boost in their income translates into higher aggregate spending on non-discretionary items, driving up their cost. Meanwhile, high wage earners are not only spending more on purchases like food and shelter, which leaves them with less disposable income, but they are also getting smaller pay raises. These combined effects likely make high wage earners feel less well off, leading them to defer or eliminate some nonessential purchases.
The counterargument in this case is that perhaps this better wage growth among the lowest cohort will help these households graduate to a level where their incomes allow them to increase discretionary purchases, or that an uptick in spending on necessities will more than offset any slowdown in other areas.
And there might be a better explanation for why the robust growth of discretionary spending is unsustainable: the price of oil.
If the strong uptick in discretionary spending is partially attributable to expenditures that would have otherwise been spent on gas, the dividend from lower fuel costs may already be reflected in the data and, as such, difficult to repeat going forward.
But the possibility that a more equitable distribution of national income could be a source of downside risk to U.S. growth over the next two years, as Konstam's team posits,  is a counterintuitive theory that warrants consideration.