Corbyn to Carry On Keeping the Peace at U.K. Labour Conference
Robert Hutton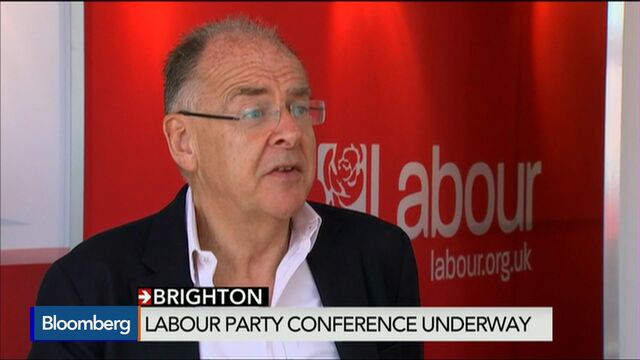 Jeremy Corbyn is set to continue his strategy of avoiding conflict within the British Labour Party when he addresses its conference for the first time as leader.
While the slogan for the conference is "Straight talking, honest politics," the theme on the main stage in Brighton, on England's south coast, has been avoiding the arguments taking place about the party's direction.
Corbyn, who ran for the Labour leadership with the original goal simply of raising issues, was propelled to the top of the party two weeks ago by activists enthused at his messages of nationalization, nuclear disarmament and higher taxes and public spending. He now finds himself trying to steer a middle course between the grass roots and the majority of party's lawmakers, who see a moderate policy platform as the only way to win elections.
"I'm not imposing leadership lines," Corbyn will tell the conference Tuesday, according to speech extracts released by his office. "I want open debate, I will listen to everyone. I firmly believe leadership is listening."
At events on the fringes of the conference, both sides in the debate about Labour's future have attacked each other, sometimes in code, and sometimes explicitly.
In the main hall, though, the party's senior figures have stuck to a message of harmony. The conference voted Sunday not to have a debate on renewing Britain's nuclear weapons, a step opposed by Corbyn but supported by many members of Parliament.
Free Votes
Senior party members have suggested that lawmakers would be allowed to vote their conscience on this issue, as well as any proposal to expand military operations against Islamic State into Syria.
On Monday, the party's combative Treasury spokesman, John McDonnell, opened his speech with the promise that it wouldn't be "my usual rant," before going on to say that his plans would be the subject of consultations before becoming policy. His concession to his usual style was to finish the speech with a cry of "Solidarity."
And on Tuesday, Lisa Nandy, Labour's new energy spokeswoman, will confirm that nationalizing energy companies, an idea Corbyn flirted with during the leadership race, is off the agenda.
Corbyn will address, obliquely, one of the controversies that enveloped him in the first few days of his leadership, when he failed to sing the national anthem at a World War II memorial service.
'Kinder Politics'
"I love this country and its people," he'll say. "These values are what I was elected on: a kinder politics and a more caring society. It's because I am driven by these British majority values, because I love this country, that I want to rid it of injustice, to make it fairer, more decent, more equal."
The Labour leader will also hint at the possibility of using the activists who support him to outflank his members of parliament.
"The huge mandate I have been given by the 59 percent of our electorate who supported me is a mandate for change," he'll say. "It was a vote for change in the way we do politics, in the Labour Party and the country. Bottom up, not top down."
Before it's here, it's on the Bloomberg Terminal.
LEARN MORE