Chinese Coal Miner Longmay Slashes Workforce to Survive Glut
Bloomberg News
Company to cut 100,000 jobs in next 3 months: China Daily

Decision not to lower output may put more pressure on prices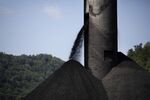 Chinese coal producer Heilongjiang Longmay Mining Group will cut 100,000 jobs in the next three months, China Daily reported, in a sign of how slumping commodity demand and a push away from the fuel is hurting domestic suppliers.
The cuts mark a more than 40 percent reduction in the workforce of the largest coal miner in the country's northeast, the state-owned newspaper reported Saturday, quoting Chairman Wang Zhikui. It also plans to sell its non-coal business to help pay off debt, according to the report.
"Longmay has reached a critical moment of life or death, a critical stage when we must save ourselves through resolute reforms," Wang said in a Sept. 21 statement posted on the company's website, which didn't mention the job cuts. "So we must reform, resolutely and completely, without delay."
Nobody answered three calls nor responded to a fax Monday to the company's main office.
Coal demand in China, the world's largest consumer of the fuel, has slumped as its economy slows amid a shift away from investment and construction and while it intensifies efforts to rein in pollution. The cuts also come as the country looks to reform its $17 billion of state-owned enterprises.
Big Bomb
"These state-owned companies are basically in charge of local employment -- they build their own hospital and schools," said Deng Shun, an analyst with Shanghai-based commodities researcher ICIS-China, adding more coal producers may follow suit. "A job cut like this is a big bomb."
Coal accounts for about 66 percent of the nation's current energy mix, according to Wang Xianzheng, chairman of China Coal Industry Association. The country's current five-year plan includes a goal to reduce that to 62 percent by 2020.
The decision to cut staff instead of production will sustain pressure on prices, according to Deng. The country's benchmark grade for the fuel has fallen to the lowest in almost 11 years.
"The fact that they aren't lowering production may put more pressure on the current record-low prices as this cost-cutting offers them the chance to sell at even lower levels to retain market share," Deng said by phone.
Falling Output

China's coal production in the first eight months of the year slipped 4.8 percent to 2.4 billion tons, according to data from National Bureau of Statistics. Imports over the same period slumped 31 percent to 139 million tons, according to customs data. Longmay produced 53.7 million tons of coal in 2013, ranking 16th largest by output in the country, according to China Coal Industry Association.
Australia's Newcastle coal, a benchmark in Asia, has fallen about 14 percent to below $57 a ton over the past year, according to data from Globalcoal. Goldman Sachs Group Inc. cut its price forecast for next year by 17 percent to $54 a metric ton, citing slowing demand from China and India for overseas supplies.
— With assistance by Sarah Chen
Before it's here, it's on the Bloomberg Terminal.
LEARN MORE