China Commits 8,000 Troops and $1 Billion to UN Peacekeeping
Bloomberg News
Xi vows to provide $100 million military aid for African Union

China leads Security Council members in providing troops to UN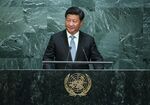 President Xi Jinping announced China will contribute 8,000 troops and $1 billion toward the United Nations' peacekeeping efforts and related works, the latest sign the world's second-biggest economy is becoming more geopolitically assertive.
Xi made the announcement at the end of his first speech at the annual UN General Assembly meeting, where leaders are discussing issues from the conflict in Syria to climate change. Along with contributing to a 10-year development fund, Xi said China will also give $100 million of military assistance to the African Union over the next five years.
China's increased involvement is viewed by some critics as a way to defend its economic interests in Africa, where it exercises influence through the building of infrastructure and other forms of so-called soft power. The Chinese government says its growing contribution to UN peacekeeping is in-step with demands that the country be more involved in security issues.
Over the years, China has sent more than 30,000 peacekeepers to 24 different peacekeeping operations, more than any of the other five veto-wielding members on the Security Council. The world's most populous nation contributes 3,079 police, soldiers and military experts to UN peacekeeping, in contrast to 82 for the U.S., according to the UN's most recent tally.
— With assistance by Keith Zhai
Before it's here, it's on the Bloomberg Terminal.
LEARN MORE