Photographer: STR/AFP/Getty Images
Charting the Markets: China Concerns Dampen Monday Mood
The yen rises, Spanish yields drop after Catalan election and VW shares decline to 2011 low. Glencore plunged a record 19 percent at one point.
by
China is hogging the headlines once again. Data showing industrial profits fell the most in at least four years are adding to concern about the nation's economic slowdown. Asian stocks fell, compounding the worst quarter since September 2011. European equities opened lower after dropping for the second straight week. Glencore plunged a record 19 percent to another record low in London.

Japan's yen is rising against all 16 of its major peers as falling stocks heighten its appeal. Fed watching continues. Six central bank officials are scheduled to speak this week including New York fed President William C. Dudley, San Francisco President John Williams and Fed Chair Janet Yellen. Last week she said interest rates were on track to rise in 2015, boosting the dollar by the most in two months. The week culminates with September's U.S. jobs report, the final one before the Fed meets in October to decide on the cost of borrowing. The odds of a hike are 18 percent, according to Fed Fund futures.

Spanish bonds rose after pro-independence parties received less than 50 percent of the vote in a local election in Catalonia, the country's second-most populous region. Ahead of the vote Spanish bonds and stocks underperformed their Italian peers on concern the result would hasten Catalonia's secession from Spain. The outcome leaves Catalan President Artur Mas, who favors breaking away from Spain, needing a deal with an anti-capitalist party that rejects the rule of law if he wants to govern. Spain is the Eurozone's economic success story in 2015, with the economy growing at the fastest pace in eight years in the second quarter. Catalonia represents about a fifth of the nation's economic output.

Volkswagen has a new chief executive yet the shares have resumed their slide. Matthias Mueller was chosen as the new boss after the market closed on Friday following a seven-hour supervisory board meeting. VW's preferred stock plunged 34 percent last week, the biggest drop in seven years after the automaker admitted cheating on U.S. diesel-emission tests. The plunge wiped 27 billion euros ($30 billion) from its market value. The scandal infected the entire sector, with the Bloomberg World Auto Manufacturers Index having its worst week since May 2012, falling 6 percent.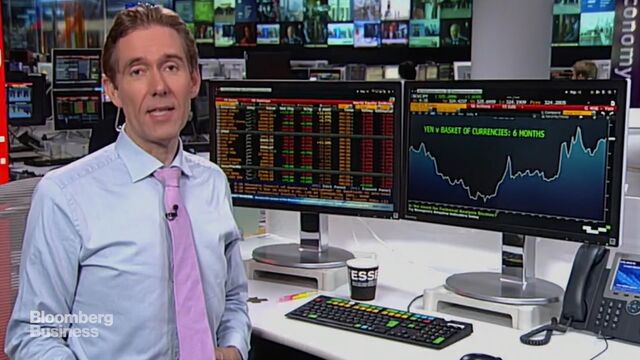 Mark Barton is a presenter on Bloomberg TV. Follow him on Twitter @markbartontv
Before it's here, it's on the Bloomberg Terminal.
LEARN MORE