Shorts Get Best Day in Four Years as U.S. Picks Plummet 5%
by
Short interest in S&P 500 highest since June '12 and climbing

Buy-the-dip gone as investors wait for S&P to test August low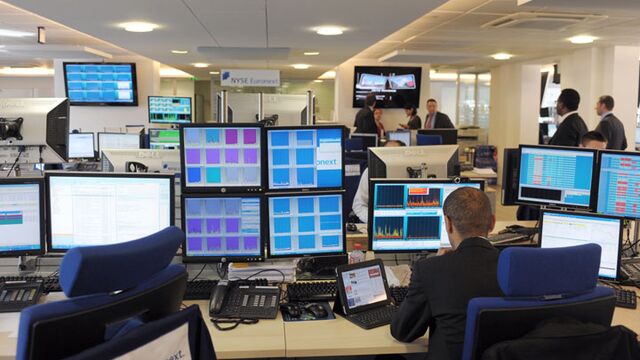 American short sellers, whose bearish bets are ballooning to levels not seen in three years, just had their most profitable day since 2011.
With the proportion of Standard & Poor's 500 Index shares borrowed and sold hovering just below 3 percent, a gauge of companies with the most bearish wagers slid 5.1 percent Monday, the most in 48 months, data compiled by Bloomberg and Goldman Sachs Group Inc. show. The basket is down more than 28 percent since June, almost three times as much as the S&P 500.
It's rare good news for professional speculators who are otherwise suffering as the benchmark gauge for U.S. equities plummets back toward levels seen at the depths of the August rout. The S&P 500 dropped 2.6 percent Monday, extending its five-day loss to 4.3 percent and leaving it within 1 percent of its 2015 low of 1,867.61, reached Aug. 25. Futures rose 0.4 percent as of 7:45 a.m. Tuesday in New York.

"You're seeing very concentrated and heavy institutional selling here," Gene Peroni, a fund manager at Advisors Asset Management Inc. in Conshohocken, Pennsylvania, said by phone. "When you see a climb in short interest, it can tell you the market is ripe for a rebound, but without some kind of catalyst that's not likely to happen."
Bearish bets are working just as industries and sectors that have been favorites of professional money managers, from biotechnology to media and small-caps, are going into free fall. The Nasdaq Biotechnology Index tumbled 6 percent Monday to bring its decline since Sept. 17 to 20 percent, while the Russell 2000 Index decreased 2.9 percent to pierce below its August low.
In the S&P 500, the 50 companies with the highest hedge-fund ownership fell 5.1 percent Monday and are down 13 percent over the last seven days. That compares with 2.6 percent and 5.5 percent for the full index, according to data compiled by Bloomberg.
Valeant Pharmaceuticals International Inc., the Laval, Canada-based company with about a quarter of its stock in hedge-fund hands, dropped as much as 20 percent Monday. Democrats in the U.S. House asked to subpoena the company for documents relating to drug price increases.
"Hedge fund managers are clearly getting nervous and are likely either betting on shorts positions outright or hedging their long exposure," Andrew Laird, an equity product specialist at Markit Group Ltd., said in an e-mail.
The timing is right -- short interest in S&P 500 stocks jumped to 2.5 percent by Aug. 6 from a two-year average of 2.1 percent of shares outstanding, according to Markit data. At 2.9 percent now, the level is the highest since June 2012, when the benchmark gauge was mired in a 10 percent decline that lasted more than two months.
Stocks with high short interest that plunged Monday included Chesapeake Energy Corp., down 9.2 percent, Sprint Corp., down 7.4 percent, SunEdison Inc., down 18 percent, and Freeport-McMoRan Inc., down 9.1 percent.
Bearish bets are high enough to spur hopes they will provide fuel for a rebound should one materialize, with bulls focusing on the August low as one possible floor. Much of the S&P 500 is already there: a version of the index that strips out market-weight biases, the S&P 500 Equal Weight Index, fell 2.8 percent Monday to 2,923.81, below its Aug. 25 low of 2,931.78.
Hedge funds across all strategies have close to the least exposure to U.S. stocks in a year, according to a Sept. 24 report by Credit Suisse. Fund managers are "polarized" over which direction stocks will take, wrote Mark Connors, global head of risk advisory at the firm, with defensive funds cutting their exposure to U.S. shares to an all-time low earlier this month even as equity long-short strategies remain highly exposed to stocks.
"It seems as if some people want to retest the lows as a way of determining if it's safe to get back in the water if the lows hold, or to confirm their fears," said Lawrence Creatura, who helps oversee about $350 billion as a fund manager at Pittsburgh-based Federated Investors Inc. "Either the storm has passed, or it's time to put on the rain coat."
Selling stocks short was a losing strategy for the first five years of the rally that began in 2009. Hedge funds using shorting strategies have declined every year of the bull market except 2011, losing an average 12 percent amid a 200 percent rally in the S&P 500, according to data from Hedge Fund Research Inc.
Now that trade is turning around, with short funds gaining 4.4 percent this year as of August, with the S&P 500 down 4.2 percent. The buy-the-dip mentality that helped propel stocks for three years without a 10 percent correction broke down this summer as the benchmark gauge slid 12 percent amid overseas growth concerns and a looming interest-rate hike in the U.S.
Since touching its 10-month low on Aug. 25, the S&P 500 has failed to bounce back, falling another 2.6 percent on Monday as signs of weakness in China renewed fears about a global slowdown. While the benchmark is 12 percent below its May high, the Goldman short-stock index has fallen almost three times further, now 29 percent below its own high.
"People keep upping their short exposure and they're not taking it off," Rick Fier, director of equity trading at Conifer Securities LLC in New York, said by phone. "Every rally starts with a short-covering rally, and we really haven't had that yet. People are looking to retest those August lows."
For Related News and Information:
Top Stories on Stocks: TOP STK
U.S. Stock Greets: TNI USS GREET
Developed Markets View: DMMV
Stock Market Map: IMAP G
World Equity Markets: WEI
Before it's here, it's on the Bloomberg Terminal.
LEARN MORE