S&P 500 Ekes Out Gain After Testing 2015 Low; Treasuries Advance
By and
Major equity indexes on track for worst quarter since 2011

Nasdaq at August low, Russell 2000 in worst slump since 2006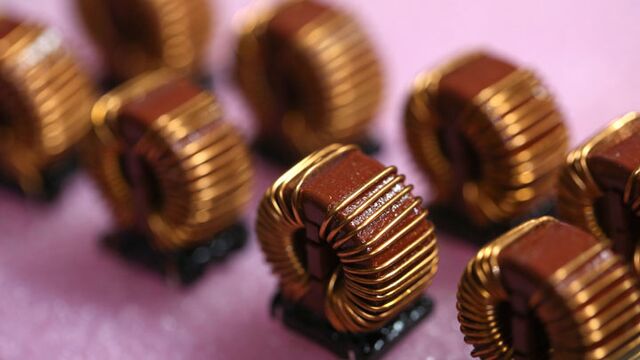 Financial markets remained on edge as U.S. stocks flirted with August lows before rallying in late trading, while gauges of European and emerging-market equities fell, headed for their biggest quarterly retreats in four years.
The Standard & Poor's 500 Index fell within 0.3 percent of a nadir reached during last month's rout before rebounding in the last 30 minutes to close higher. The gauge is still poised for its worst quarter since 2011. Selling in biotech and technology stocks sent the Russell 2000 Index to its longest slump since 2006 and briefly pushed the Nasdaq Composite below its August close. Ten-year Treasuries climbed, sending yields to a one-month low.
"When we have spikes in volatility, like we did at the end of August, that's normally followed by some additional choppiness until it peters out," said Kevin Caron, a market strategist and portfolio manager who helps oversee $170 billion at Stifel Nicolaus & Co. in Florham Park, New Jersey. "It's not uncommon to see this around changes in direction for key things like monetary policy. We still have this lingering volatility that we're working through."

With equity markets struggling to post gains, investors concerned by a slump in commodities and the slowdown in China have taken the upper hand against those who see U.S. strength as sufficient enough to sustain global growth. Confidence this month in the euro-area economy unexpectedly increased, while a reading on the American consumer's confidence level jumped.
Stocks
The S&P 500 added 0.1 percent by 4 p.m. in New York, in a choppy session that saw the gauge rise as much as 0.9 percent and fall 0.5 percent. Selling picked up in the final hour of U.S. equity trading -- then reversed as the Nasdaq Composite Index slipped below its worst closing level of 2015 and the S&P 500 came within five points of its own August low.
The S&P 500's gains halted a five-day losing streak, though the gauge is poised for a second monthly loss and has tumbled 8.7 percent this quarter, leaving it 12 percent below its all-time high set in May.
Technology shares were the biggest decliners in the S&P 50 Tuesday, as Apple Inc. sank 3 percent. The Russell 2000 capped an eighth straight daily decline, taking its slide in the third quarter to 14 percent. The Nasdaq Biotechnology Index erased an earlier advance, adding to its 20 percent slide since Sept. 17.
Stocks have been volatile in recent weeks amid confusion over the Fed's position on raising interest rates and on concern the slowdown in China's economy, the world's second-largest, will curb demand for commodities and impact global growth.
The Stoxx Europe 600 Index tumbled 0.7 percent, even as commodity producers rebounded from their weakest level since 2009. The European benchmark has dropped 11 percent in the third quarter, its worst three months since the same period in 2011. Glencore Plc, the commodities group that's become a proxy for the sector's woes, rallied after the company said it can withstand market conditions. The stock tumbled 29 percent Monday.
The MSCI All-Country World Index has lost 12 percent this quarter for its biggest drop since 2011. The gauge is now trading at its lowest level in two years, with the value of global equities currently at $59.8 trillion, the least since February 2014.
Bonds
Treasuries advanced, with yields on the 10-year note slipping four basis points, or 0.04 percentage point, to 2.05 percent, the lowest level since Aug. 26. Demand soared to a record for a second consecutive week at the Treasury's four-week bill auction as investors gladly swallowed a zero yield on the securities, which have become scarce with the U.S. debt ceiling limiting supply.
Meanwhile, the corporate-credit market has nearly ground to a halt. Only two issuers, both state-owned, offered euro-denominated bonds on Tuesday after concern about Glencore's debtload and China's slowing growth prompted a selloff in commodity-related bonds.
For the first time in more than 20 years, U.S. speculative-grade bonds are set to post a fourth straight month of losses, topped off by a decline of more than 2.3 percent this month alone, Bank of America Merrill Lynch Indexes show.
Commodities
West Texas Intermediate crude climbed 1.8 percent to settle at $45.23 a barrel, following Monday's 2.8 percent drop to a two-week low. Brent crude rose 1.9 percent to end at $48.23 a barrel. U.S. stockpiles are forecast to drop for a third week, a Bloomberg survey of analysts showed before government data due Wednesday.
Copper for delivery in three months added 0.1 percent to settle at $4,970 a metric ton in London, halting a five-day slide that marked the longest slump in more than a month. The unexpected increase in consumer confidence helped ease concern that demand would fall. Zinc and lead advanced.
Currencies
The Bloomberg Dollar Spot Index, a gauge of the U.S. currency against 10 major peers, slipped 0.1 percent after a two-day gain. The greenback was little changed at $1.1249 per euro and lost 0.2 percent to 119.74 yen as the volatility in equity markets fueled demand for haven assets.
Norway's krone advanced against 13 of its 16 major peers as currencies from oil-exporting countries rallied. The krone gained 0.7 percent to 8.4763 per dollar, after sliding to 8.6017 on Monday, the weakest level since April 2002. 
Emerging Markets
The MSCI Emerging Markets Index dropped 0.7 percent, extending this quarter's slide to 20 percent, the steepest decline for a quarterly period since 2011.

The Shanghai Composite Index fell 2 percent, extending this quarter's slump to 29 percent, the most since 2008. The Hang Seng China Enterprises Index of mainland shares listed in Hong Kong has also lost 29 percent in the period.
Brazil's real has tumbled 24 percent against the dollar since the end of June, the biggest slide among major emerging-market currencies, followed by losses of about 16 percent or more for the ruble and Colombia's peso.