Alcoa Seen Borrowing a Bit of Buffett's Halo in Plan to Split
by and
Precision Castparts deal highlights value of Alcoa division

CEO: It's "a confirmation that our strategy was very right."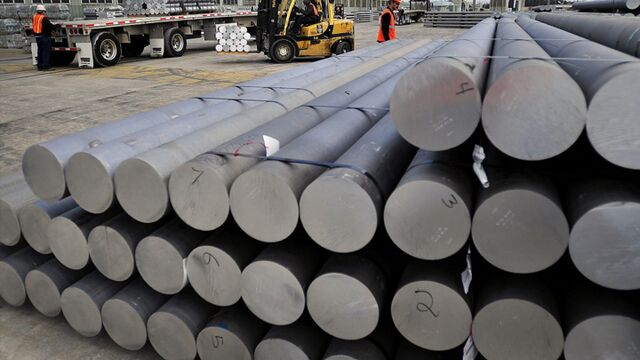 Alcoa Inc. is enjoying a bit of Warren Buffett's halo.
Shares of the aluminum maker rose as much as 5 percent Monday after the company announced that it would split its legacy smelting and refining operations from its engineered-products business, which makes components for the auto and aerospace industries.
That division competes with Precision Castparts Corp., a company that Buffett's Berkshire Hathaway Inc. agreed last month to buy for about $32 billion -- or a 21 percent premium to its market value before the deal was announced.
The acquisition "demonstrated that a very smart guy thought that Precision Castparts had a lot of value," said Lloyd O'Carroll, a Richmond, Virginia-based analyst at CRU, said by telephone on Monday. "Hence there is a lot of value in engineered products."
Given his decades of successful investing, Buffett can often send shares higher when he discloses a stake in a company. Less recognized is how competitors often cite his moves to bolster their own businesses.
After Buffett agreed to buy a network of car dealerships last year, for instance, AutoNation Inc. Chief Executive Officer Mike Jackson said that Berkshire's entry into his industry validated "everything I've been saying for the last decade about this space."
Berkshire's deal to purchase the Duracell battery unit from Procter & Gamble Co. also invited a comparison. On a conference call in November, Spectrum Brands invoked Buffett's name while highlighting the cash flow from its Rayovac business.
Alcoa CEO Klaus Kleinfeld is happy to join the chorus, but said that the ground work was laid long before Berkshire made its move. The former Siemens CEO has emphasized the company's focus on value-added aluminum products for years while rationalizing a commodity-aluminum business that was once the world's largest by volume.
"I was not surprised that Warren also finally saw this," Kleinfeld said in a phone interview. "Good for them. It's just a confirmation that our strategy was very right."
Before it's here, it's on the Bloomberg Terminal.
LEARN MORE