Alcoa Debt Plunges as Bond Investors Question Future After Split
by
Aluminum maker plans to separate downstream, upstream assets

Creditors fear debt to be left with commodity-sensitive unit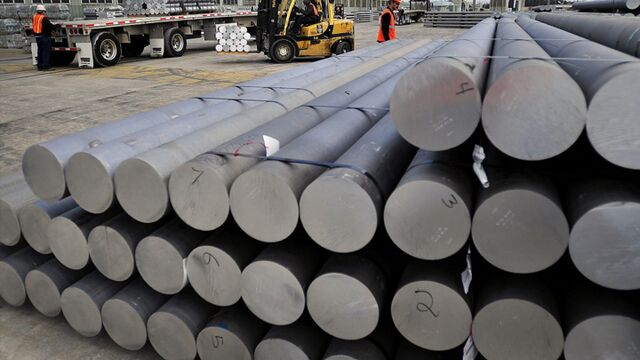 Bonds of Alcoa Inc. plummeted after the top U.S. aluminum maker announced plans to split itself in two, prompting concern that some creditors will be left with the least profitable part of the businesses.
The company's $1.25 billion of 5.4 percent notes maturing in April 2021 tumbled 10.5 cents to 94.5 cents on the dollar to yield 6.6 percent at 12:29 p.m. in New York, according to Trace, the bond-price reporting system of the Financial Industry Regulatory Authority.
The move will create a new company comprising Alcoa's downstream production assets, including those that make components for the auto and aerospace industries, it said Monday in a statement. That business will be run by current Chief Executive Officer Klaus Kleinfeld and will aim to be rated investment-grade. The name Alcoa will be retained by the upstream business, which mines bauxite, refines alumina and smelts aluminum, and will target a "strong" junk rating.
"As a bondholder you're not sure where you're going to end up yet," said Richard Bourke, a Bloomberg Intelligence analyst. "Whoever gets stuck with the bonds at the upstream company is most likely going to be worse off as they are targeting lower ratings. You may end up with more of a commodity play than you bargained for if you lose the downstream business."
Monica Orbe, a spokeswoman for Alcoa, didn't immediately respond to a phone call and e-mail message seeking comment on the bond move.
Split Rated
The company is split-rated, with Moody's Investors Service grading it Ba1, the highest junk ranking, and Standard & Poor's rating it BBB-, the lowest investment-grade. S&P said Monday that the split-up announcement didn't affect its ratings without having "complete information" about Alcoa's ultimate capital structure. The credit rater will reassess when more information becomes available.
"The separation of the upstream business should reduce the volatility associated with commodity price fluctuations derived from mining bauxite and refining alumina," S&P analyst William Ferara wrote today in a note.
Alcoa, which takes an ore called bauxite and processes it into aluminum, has lost almost half its value since last November as prices for the metal tumbled to a six-year low.
Before it's here, it's on the Bloomberg Terminal.
LEARN MORE