U.K.'s Cameron and Iran's Rouhani to Meet for Talks on Syria
Thomas Penny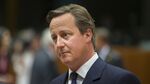 U.K. Prime Minister David Cameron will meet Iranian President Hassan Rouhani in New York on Sept. 29, Cameron said.
The two leaders, who are attending the United Nations General Assembly, will discuss Syria, conflict in the Middle East and relations between the two countries, Cameron said.
"We have to talk to all of the countries that are involved" in Syria, Cameron told reporters as he flew to New York on Sunday. "It's good I've got my second meeting with Rouhani. I met him last year, the first prime minister to do so for 35 years, and following the important nuclear deal it's time to have longer conversations about the future of the region and the future of Syria."
The U.K. reopened its embassy in Tehran last month, four years after a mob attack shut it down, marking an improvement in diplomatic relations after July's nuclear accord.