business
Russian Oil Producers Head for Tax Showdown Amid Output Warnings
By
Companies set to discuss oil taxes with PM Medvedev Monday

Crude output may decline next year for first time since 2008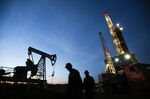 Russia's oil industry begins a critical battle over taxes this week. Losing may result in the first decline in crude production at the world's largest energy exporter since 2008.
Oil producers are due to meet with Russian Prime Minister Dmitry Medvedev Monday to present their joint view on Finance Ministry proposals to increase crude oil extraction taxes, said two company representatives who asked not be be identified because the meeting isn't public. The ministry wants to boost revenue by about 600 billion rubles ($9.1 billion) in 2016 alone to mitigate the biggest budget deficit in years.
The price of crude plunged by about 50 percent over the past year because of a global oversupply. While Russia's government finances have deteriorated, its oil companies have proved more resilient to the slump as some tax rates automatically adjusted lower and a weaker ruble reduced their costs. The nation's oil production rose to a post-Soviet record of 10.72 million barrels a day in June.
"If the Fin Min proposal is approved in the current form, we expect the total production decline to reach 1.5 percent to 2 percent in 2016," Karen Kostanian, oil and gas analyst at Bank of America Corp., said by phone. Output will fall because of cuts to capital expenditure estimated at $2 billion to $3 billion, he said.
Investment Slump
Medvedev's press representative Natalia Timakova declined to comment on his schedule. Herman Gref, chief executive officer of Sberbank PJSC and chairman of the Public Council of the Energy Ministry, said Sept. 24 that oil companies would prepare a tax proposal for the prime minister by Monday.
Russia's Energy Ministry estimated last week that oil output would be stable until 2035 at a level of about 525 million metric tons a year, or 10.5 million barrels a day, as investment in new projects offset declines at older fields. If the government approves the planned tax hike, investments could slump by 50 percent and total oil production drop by 100 million metric tons over next three years, Energy Minister Alexander Novak said in an interview to state TV Friday.
"In a lower capex environment, the output decline at mature Russian fields may reach some 5 percent already next year," Alexander Nazarov, oil and gas analyst at OAO Gazprombank, said by phone. "New projects won't be able to cushion the total decline."
Oil production dropped 0.9 percent in 2008 as prices slumped during the global financial crisis, according to BP Plc data. Russian output has been growing at an average annual rate of 1.4 percent for the past six years, the data show.
Fiscal Gap
Russia relies on oil and gas for about half of its budget earnings, with taxes on the extraction and export of crude accounting for about 32 percent of revenue. The nation's budget deficit was 994 billion rubles through August this year, or 2.1 percent of gross domestic product, according to the Finance Ministry. It forecasts a 2016 deficit of under 3 percent of GDP if oil averages $50 a barrel. Brent crude, the international benchmark, traded at about $48 in London Friday.
Last week, President Vladimir Putin asked the government "to work on channeling to the budget additional revenues of export companies, which they received thanks to the ruble devaluation." Russia needs to consider cutting "inefficient budget spending" rather than putting additional pressure on oil producers, Novak said.
The oil industry may agree to a less damaging tax scenario, such as a freeze in the oil-export duty at the current level, TASS news agency reported Sept. 25 citing unidentified sources. Freezing it would add 50 billion to 100 billion rubles to the tax burden, not enough to affect production, Bank of America's Kostanian said.
"It is likely that the oil sector will avoid the worst-case outcome," Sberbank CIB analysts Alex Fak and Valery Nesterov said Sept. 25 in a report. Still, the precedent set by a tax increase would "make it harder to sell the Russian energy investment case."
— With assistance by Elena Mazneva, and Olga Tanas
Before it's here, it's on the Bloomberg Terminal.
LEARN MORE