Putin Bids to End Russian Isolation With Syria Message to UN
by and
Russian president due to meet Obama on Monday in New York

Merkel echoing view that Assad may be part of solution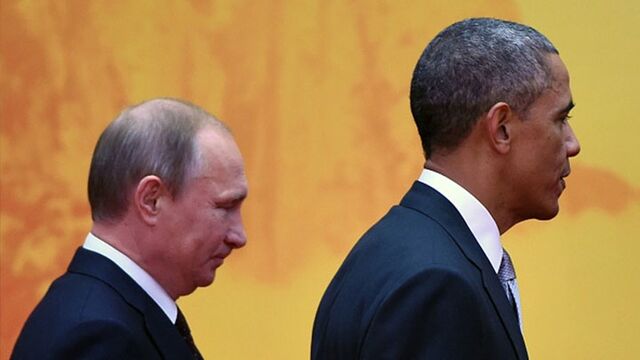 President Vladimir Putin urged the U.S. and its allies to make common cause with Russia to defeat Islamic State as he tries to find a way out of the diplomatic isolation that followed the annexation of Crimea last year.
Speaking ahead of his first meeting with U.S. President Barack Obama in almost a year, Putin said in an interview with Charlie Rose that "we would welcome a common platform for collective action against the terrorists." There's no choice but to support Syrian President Bashar al-Assad in the fight against Islamic State, he said.
Battered by sanctions and falling oil prices, Putin is using Syria to reassert Russia's diplomatic sway in the world as a civil war sends floods of refugees into western Europe. With no end in sight, Putin's argument that Assad must be part of a settlement -- a position he is likely to repeat in his speech to the United Nations General Assembly on Monday -- is finding traction in European capitals.
Europe's Conversion
German Chancellor Angela Merkel said on Sept. 23 that Assad will need to be a participant in any negotiations, a position echoed by French President Francois Hollande and U.K. Prime Minister David Cameron.
"Putin is coming back to the world stage," said Masha Lipman, editor of Counterpoint, a quarterly journal published by George Washington University, in an interview. "He's been able to change the agenda. It's no longer just Russia the villain who wants to suppress Ukraine," said Lipman, who also co-wrote a study of Putin with former U.S. Ambassador to Russia Michael McFaul.
Key to any breakthrough will be Putin's meeting with Obama, which is scheduled to take place at 5 p.m. on Monday. In a sign of how brittle relations still are, diplomats from both sides sniped at each other behind the scenes and disagreed about who initiated the meeting in the first place.
Still, there may be scope for common ground over Syria, which has turned into a magnet for jihadists around the world and whose collapse would destabilize the entire Middle East. U.S. Secretary of State John Kerry said before a meeting with Russian counterpart Sergei Lavrov on Sunday that the international community must coordinate its efforts against Islamic State, which controls vast swathes of Iraq and Syria.
Obama told the UN Monday that the U.S. is ready to work with Russia as well as Iran to help end the Syrian conflict, though he repeated a call for an end to Assad's rule.
"Realism dictates a compromise will be required to end the fighting and ultimately stamp out ISIL," Obama said, using an acronym for Islamic State. "But realism also requires a managed transition away from Assad and toward a new leader."
Big Players
The U.S. is also considering resuming military-to-military talks with Russia, frozen for 18 months, to avoid accidental confrontations with U.S. aircraft conducting strikes inside Syria.
UN Secretary-General Ban Ki-Moon, who opened the UN General Assembly session, also stressed the importance of Russia's role and that of regional players.
"Five countries in particular hold the key: the Russian Federation, the United States, Saudi Arabia, Iran and Turkey," Ban said in New York. "But as long as one side will not compromise with the other, it's futile to expect change on the ground."
Syria Carnage
Some analysts argue that the carnage in Syria -- and Putin's ties to Assad -- has left the U.S. with little choice but to invite Russia to join the international force against Islamic State. That effectively allows Assad into the coalition as well, according to the Soufan Group, a U.S. security consultancy run by a former counter-terrorism official at the Federal Bureau of Investigation.
"It is a clever move by Russia given the strained relations with the West over Ukraine," Soufan Group said in a research note.
In his interview with Charlie Rose for CBS's "60 Minutes," the Russian leader reiterated that there's "only one" regular army in Syria.
Putin's gambit comes from a position of weakness at home. The Russian economy is facing the threat of its longest recession in two decades after a 57 percent slump in oil prices over the past year, and the economy is still saddled with the burden of U.S. and European-imposed sanctions.
Unilateral Action

Nor is Putin committed to a meeting of minds with the West over Syria. The Russian president, who has sent fighter jets, armored personnel carriers and attack helicopters to Syria, is prepared to launch air strikes unilaterally if his talks with Western leaders fail, according to a Kremlin official.
He also underscored the existing tensions with the U.S. over Syria by suggesting that U.S. support for the rebels is illegal.
"Provision of military support to illegal structures runs counter to the principles of modern international law and the United Nations Charter," Putin said.
Other analysts question whether Putin really has the ability to shape events in Syria.
"It's not clear to me they have the clout with the regime, it's not clear to me they have a really good feel for all the opposition groups," said Andrew Weiss, vice president for studies at the Carnegie Endowment for International Peace, where he oversees research in Washington and Moscow. "I'm not sure why Russia would want to rush in, in a meaningful way to be involved on the ground militarily. It seems fraught with risk."
German Ties
For more, read this QuickTake: Vladimir Putin
Still, a deal over Syria could create momentum in Europe to lift some of the sanctions imposed over Ukraine, where almost 6,500 people have died since April last year in fighting between Ukrainian government forces and pro-Russian rebels.
Germany wants to improve ties with Russia to enlist Putin's government in efforts to solve the crisis in Syria, Vice Chancellor Sigmar Gabriel said Sept 25. Europe can't keep up sanctions on Russia forever and at the same time ask Russia for help, he said.
A German government official, who spoke on condition of anonymity, said sanctions could be eased gradually in a gesture of good will.
For now, the immediate result of the latest diplomatic drive will be to mark "the beginning of the end" of U.S. and European attempts to isolate Russia, said Matthew Rojansky, director of the Kennan Institute at the Wilson Center in Washington.
"We are essentially accepting Russia's premise that you can't do business globally on important security issues without dealing directly with Russia," he said.
Before it's here, it's on the Bloomberg Terminal.
LEARN MORE