Merkel Says Must Ensure Global Climate Talks Are Successful
Patrick Donahue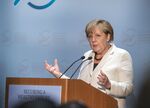 German Chancellor Angela Merkel said world leaders must ensure that they achieve "ambitious" goals they set for themselves in reining in global warming this year.
Speaking at the United Nations sustainable development summit in New York, Merkel said 190 global leaders gathering for a climate summit in Paris in December must forge an agreement on financing and binding targets to ensure warming doesn't exceed 2 degrees Celsius (3.6 degrees Fahrenheit).
"We will be obligated to ensure that Paris is a success," Merkel told reporters on Sunday, "both in terms of the financial commitments to developing nations as well as the ambitious goal for de-carbonization this century and the fulfillment of the 2-degree goal."
The German leader spoke before attending a meeting hosted by UN Secretary General Ban Ki-Moon with counterparts from France and Peru to seek agreement on pushing forward their agenda ahead of the December summit.
Before it's here, it's on the Bloomberg Terminal.
LEARN MORE