Le Pen Says France Should Align With Russia on Approach to Syria
by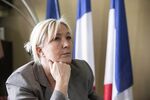 France doesn't need to strike terrorist targets in Syria, National Front leader Marine Le Pen said today, saying it would be better off aligning with Russia and its greater resources to cope with terrorists in the Middle Eastern country.
Speaking on RTL Radio's Grand Jury program, the far-right politician said supporting Bashar al-Assad was the best option because terrorist organization Daesh would take over if his government fell.
Le Pen also said international sanctions against Russia for invading Ukraine were "not useful." The world was "unipolar," with the U.S. deciding all major issues, and alienating Russia would only push it closer to China, she said.
Le Pen made the comments after France said this morning it had begun air strikes against Islamic State militants in Syria. France cited intelligence gathered in recent weeks that its interests risked being compromised.
Before it's here, it's on the Bloomberg Terminal.
LEARN MORE