India Surges to Second-Biggest U.S. Weapons Buyer
By and
U.S. taking more of Russia's defense market share in India

Ties between India and U.S. "never been stronger": statement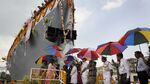 As China rises as a military power in Asia, India is buying more and more U.S. weapons.
Monday's meeting between President Barack Obama and Indian Prime Minister Narendra Modi highlights the converging strategic interests between the nations, which had strained relations during the Cold War. India was the second-biggest buyer of U.S. arms last year behind Saudi Arabia, up from almost nothing five years ago.
The latest purchase came last week, when India's cabinet approved a $3 billion deal for Boeing Co. military helicopters. The 22 Apache attack choppers and 15 Chinook cargo choppers comprised the biggest defense contract since Modi came to power.

The stronger military ties represent a shift for India's leaders as they look to reduce dependence on Russia for weapons and counter growing Chinese naval capabilities in the Indian Ocean. Modi is looking to access the technology needed to build up India's local defense manufacturing as he spends $150 billion to modernize its military by 2027.
"India wants more sophistication and has the money to get that wherever that technology is available, whether it's Israel, France, the U.S. or elsewhere," Jon Grevatt, Asia-Pacific defense-industry analyst for IHS Jane's, said by phone from Bangkok. "Countries are falling over themselves to transfer technology to India."
Never Stronger
During a January visit to New Delhi, Obama reached a deal with Modi for India to produce drones and airplane parts, and for the countries to study technology for aircraft carriers and jet engines. U.S. and Indian officials met last month to discuss collaborating on aircraft carrier technology.
"Ties between the United States and India have never been stronger," the two nations said in a Sept. 22 joint statement after Secretary of State John Kerry and External Affairs Minister Sushma Swaraj met in Washington.
U.S. arms have "strengthened India's role as a net provider of security in the Indian Ocean Region," the U.S. Embassy said in an e-mailed statement.
While India stayed neutral during the Cold War, it expanded economic and military ties with the Soviet Union during the 1960s. A conflict with close U.S. partner Pakistan and a nuclear test in the 1970s further strained relations with American leaders.
Russia Dominance
Russia and the Soviet Union supplied about 70 percent of its imports since 1950, figures from the Stockholm International Peace Research Institute show. The U.S. surpassed Russia as India's biggest arms supplier last year, according to Indian government figures. However, that doesn't account for Russian arms licensed for production in India, according to Siemon Wezeman, a senior researcher at Sipri.
India will be wary of becoming too dependent on American equipment. Officials in New Delhi still remember how the U.S. imposed sanctions after India's nuclear tests in the 1990s.
Russia remains an important defense partner. Modi has cleared $60 billion worth of arms purchases since taking office, including a deal to make 200 Russian Ka-226T light utility helicopters in India for an undisclosed amount.
No matter where India gets its weapons, it's important for Modi to create the right incentives for technology transfer, according to Amber Dubey, partner and India head of aerospace and defense at global consultancy KPMG. In a meeting last week, the heads of top U.S. defense manufacturers called on Modi to simplify contract procedures, the Economic Times reported, citing an unidentified official.
"Many foreign suppliers use Indian suppliers for low end metal-working and non-sensitive sub-assemblies that do not add much value to the fledgling Indian defense industry," Dubey said. "This approach needs to undergo a radical shift."