Corbyn Seeks U.K. Labour Peace by Avoiding Divisive Issues
Robert Hutton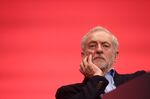 U.K. opposition leader Jeremy Corbyn sought to avoid confrontation within his Labour Party by refusing to take a formal stance on issues from the replacement of the Trident nuclear-weapons system to possible military action in Syria.
Corbyn was elected Labour leader two weeks ago with an overwhelming mandate from party members but the support of less than 10 percent of its members of Parliament. His supporters backed him because of his decades of taking outspoken positions against official Labour policy, but those same positions meant he received a hostile reception from lawmakers.
On Sunday, at the start of Labour's annual conference, titled "Straight Talking, Honest Politics," Corbyn attempted to steer a course between the two sides, saying that while his own opposition to the monarchy and nuclear weapons was well-known, that didn't make his views party policy. On Syria, where Prime Minister David Cameron wants Parliament to agree to military action against Islamic State, Corbyn simply said he wanted peace.
"What's happening in Syria is dreadful," Corbyn told BBC Television's "Andrew Marr Show" from the conference in Brighton, southern England. "Ultimately, there has to be a political solution."
Later in the day, an attempt by some within the party to have a conference debate on changing policy to oppose Trident was blocked by the committee that oversees the agenda. Labour currently supports multilateral disarmament, giving up Britain's weapons in concert with other countries. Corbyn has been a lifelong supporter of unilateral disarmament.
'Good Thing'
"I understand colleagues' views," the Labour leader had told the BBC. "I hope to persuade them that a nuclear-free world is a good thing."
One way to avoid splits within the party is to agree they should be the subject of "free votes" in Parliament, on which Labour would take no official position. That's usually reserved for ethical issues, such as abortion and assisted dying for the terminally ill.
Corbyn's friend and Labour's economic spokesman, John McDonnell, has suggested that votes on wars might also be included, and Labour's deputy leader, Tom Watson, hinted Sunday they could be extended to the renewal of Trident, to which Cameron's government is committed.
While that might reduce the damage from public splits over the issues, it would also mean Labour, Britain's main opposition party, would no longer have an official view on the defense of the country or military action.
'Not Plausible'
"It's not plausible for an opposition not to have a position on the defense of the realm," Chuka Umunna, the party's former business spokesman, who was briefly a candidate for the party leadership, said at an event on the fringes of the conference. "I'm all for debate, but ultimately we're going to have to have settled positions. I don't think it's sustainable for us to free-vote everything."
Meanwhile, in an effort to bolster its economic credibility, the party named Nobel Prize-winer Joseph Stiglitz and Thomas Piketty, the author of the bestselling "Capital in the 21st Century," to serve on a panel of advisers.
They'll be joined by David Blanchflower, a former member of the Bank of England's Monetary Policy Committee, Mariana Mazzucato of Sussex University and Anastasia Nesvetailova and Ann Pettifor of City University in London, Labour said in an e-mailed statement.
Fiscal Charter
Corbyn had faced criticism for appointing McDonnell, a critic of Bank of England independence, as his economic spokesman. They have since tried to send reassuring signals, with McDonnell telling the Guardian newspaper in an interview published Saturday that Labour would sign up to Chancellor of the Exchequer George Osborne's fiscal charter to reduce debt as a proportion of gross domestic product.
Last year, Stiglitz intervened in British politics to tell Scotland that it would be able to keep the pound if it voted for independence and that oil revenues could guarantee its finances.
Piketty described Corbyn's election as "a brilliant opportunity for the Labour Party to construct a fresh and new political economy which will expose austerity for the failure it has been in the U.K. and Europe."
Before it's here, it's on the Bloomberg Terminal.
LEARN MORE