Corbyn Recruits Stiglitz, Piketty to Boost Economic Credentials
Svenja O'Donnell and Robert Hutton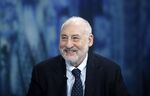 U.K. Labour leader Jeremy Corbyn recruited Nobel Prize-winning economist Joseph Stiglitz and wealth and inequality expert Thomas Piketty to advise his party as he seeks to regain credibility for policies attacked by many academics as potentially disastrous.
His finance spokesman, John McDonnell, will outline the opposition's "new economics" in a speech Monday that will cover his deficit-reduction plans and a goal to "change the economic discourse." McDonnell's office would say only that his plans involve a "radical review" of the Bank of England.
Appointing Stiglitz -- a well-known opponent of western governments' austerity policies -- and Piketty, whose book, "Capital in the 21st Century," became a best-seller in 2013, mark Corbyn's effort to restore trust among the business and academic community. They will serve on a panel that will also include David Blanchflower, a former member of the BOE's Monetary Policy Committee and labor-market economist who's been vocal in his criticism of British central-bank policy and the U.K.'s Conservative government.
"There is now a brilliant opportunity for the Labour Party to construct a fresh and new political economy which will expose austerity for the failure it has been in the U.K. and Europe," Piketty said in an e-mailed statement.
They'll be joined on Labour's Economic Advisory Committee by Mariana Mazzucato of Sussex University and Anastasia Nesvetailova and Ann Pettifor of City University in London, the main opposition party said in an e-mailed statement Sunday as it began its annual conference in Brighton, on England's south coast.
Corbynomics Debate
"Corbynomics" has been the subject of much debate since the anti-austerity lawmaker become frontrunner in the party's leadership race over the summer. His campaign leaflet "The Economy in 2020," citing analysis by tax expert Richard Murphy, said the government is missing out on 120 billion pounds ($180 billion) in uncollected revenue a year —- enough to give every person in Britain 2,000 pounds.
Corbyn also suggested creating a National Investment Bank, with the power to issue bonds that would then be acquired by the Bank of England. Corbyn's form of quantitative easing would be used specifically to kick-start infrastructure projects -— for instance building schools and hospitals. Murphy estimated this could generate 50 billion pounds a year.
Tony Yates, a former BOE official and professor of economics at Birmingham University, said this would be "a disaster for monetary policy and inflation credibility."
Blanchflower said the goal of the panel, which will meet quarterly, was to deal with doubts about Corbyn and McDonnell's plans.
"That is the plan -- economic credibility," he said on his Twitter feed.
Before it's here, it's on the Bloomberg Terminal.
LEARN MORE