Hillary Clinton Blames GOP for 'Drip, Drip, Drip' of E-Mail Controversy
By
Democratic frontrunner acknowledges little control over story

Lawyers decided which e-mails to make public, Clinton says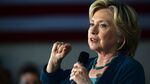 Hillary Clinton struggled Sunday with another round of questioning about her e-mail practices as secretary of state, saying she had no input into which of her messages were made public and little control over the controversy.
Clinton, whose lead for the Democratic presidential nomination
is shrinking in some national polls, said in an interview on NBC's "Meet the Press" that her attorneys decided without her assistance which e-mails from the private server she used while at the State Department were business-related and would be made public. She expressed frustration the controversy hasn't abated despite her explanations.
"It is like a drip, drip, drip and that's why I said there's only so much that I can control," she said in her second interview on a Sunday news show in two weeks. "I can't predict to you what the Republicans will come up with, what charges and claims they might make. I have no control over that."
Clinton likened the investigation of her e-mail account to the scandals of the 1990s. "Another conspiracy theory?" she responded with a laugh when host Chuck Todd asked her to consider "an alternative explanation" of her e-mail issues.
Clinton said she doesn't know whether the FBI, which is examining her server, will find business-related e-mails that weren't among a batch of about 55,000 turned over to the State Department. She said she had left it to her lawyers to vet the e-mails.
Petraeus E-Mails
"I wanted them to be as clear in the process as possible," she said. "I didn't want to be looking over their shoulder."
The Obama administration this week said it had identified an exchange between Clinton and former Army Gen. David Petraeus from January 2009 that her team had not previously provided to the State Department. Her campaign previously said that she had handed over all business-related e-mails from March 2009 through her departure from State in early 2013.
Clinton said that "there was a transition period" when she joined the State Department and that she "wasn't that focused on my e-mail account. What we had available at the time was turned over."
Clinton invoked the scandals that plagued her and her husband during their time in the White House. The e-mail controversy is similar, she said.
'It's Regrettable'
"As you might remember during the '90s there were a bunch of them. And, you know, all of them turned out to be not true. That was the outcome," she said. "It's regrettable, but it's part of the system."
In an interview with CNN broadcast Saturday, former President Bill Clinton placed blame for his wife's e-mail controversy with Republicans.
"We're seeing history repeat itself," he said. "The other party doesn't want to run against her and if they do, they'd like her to be as mangled up as possible."
Hillary Clinton distanced herself slightly from her husband's statements.
"I love my husband and he does get upset when I'm attacked," she said. "We also get the fact that look, this is a contest. And it's fair game for people to raise whatever they choose to raise."
Clinton acknowledged the controversy had hurt her standing in the polls. An NBC/Wall Street Journal poll of Democratic voters published Sunday showed Clinton leading Senator Bernie Sanders of Vermont by seven points, 42 percent to 35 percent. Vice President Joe Biden, who has not said whether he will enter the race, drew 17 percent.
The poll had a margin of error of plus or minus 6.1 percentage points.