business
China Financial Gauge Improves, Offering a Signal for Growth
Bloomberg News
Monetary Conditions Index has presaged past growth upturns

This time, downward pressures on growth appear more severe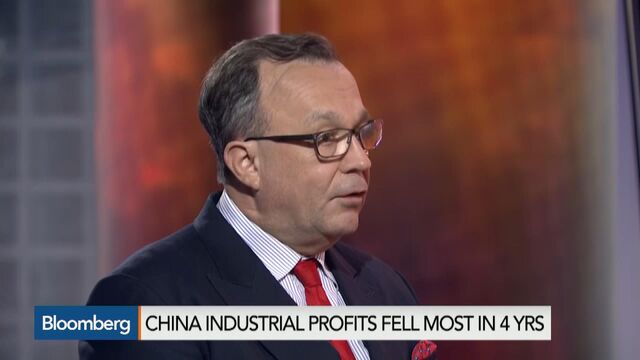 China's 10-month campaign to relax monetary policy is showing signs of an impact as financial conditions ease, a shift that could help stabilize the nation's growth rate.
Bloomberg's China Monetary Conditions Index, a gauge that includes inflation-adjusted interest rates and the exchange rate, improved for a second month in August -- the first back-to-back gain since 2013. Episodes of improvement in the past have tended to presage either an acceleration or a stabilization in economic growth.

The economy is muddling through a slump in exports and a downturn in investment growth thanks to an overhang of debt. The best bet for a pick-up may be continued gains in consumer spending, along with a turnaround in public projects -- and that's where financing conditions come in.
"As monetary policy has been loosened, there has already been a sizable turnaround in credit growth that should feed into stronger economic growth over the months ahead," said Mark Williams, chief Asia economist for Capital Economics Ltd. in London. "We'll certainly see that in the monthly data in the fourth quarter."
Premier Li Keqiang has responded to the economy's slowdown with policy easing measures including five interest rate cuts since November, reductions in the amount of deposits banks must hold as reserves, a surprise currency devaluation last month and increased fiscal support.
The HSBC China Monetary Conditions Indicator also rose to a six-month high in August, after stalling in July. The Bloomberg and HSBC gauges are designed to give a sense of how monetary conditions evolve over time, with higher values indicating looser monetary conditions and lower values signaling tightening.
"We expect more policy easing to generate a modest growth rebound" in the second half, economists led by Hong Kong-based Qu Hongbin, chief economist for greater China at HSBC Holdings Plc., wrote in a note this month.
While financial easing isn't always followed by a pick up in growth -- signs of relaxation in the spring of 2014 ended up being followed by a further slowdown in the economy later in the year -- the index's current gain coincides with other evidence that things at least are not getting any worse.
The economy isn't as weak as it may look, according to a private survey from New York-based research group China Beige Book last week, while data culled from China's most-used search engine, biggest online outlet and main bank-card network also signaled stabilization.
Though China's central bank started cutting rates last year, the impact was until recently offset by low inflation that kept real borrowing costs high, slow loan growth, and a strong yuan choking off external demand, said Bloomberg economist Tom Orlik in Beijing.
"Now those factors have started to reverse, monetary conditions are more accommodative, and that should start to put a floor under falling growth in the months ahead," he said. "No one is expecting a sharp rebound."
China's policy easing must counter severe downturns in the real estate market and industry and likely can only mitigate the impact, said Louis Kuijs, head of Asia economics at Oxford Economics Ltd in Hong Kong. Growth is likely to slow in the second half, ending the year at 6.6 percent, and decelerate to 6 percent next year, it estimates.
Underscoring weakness in China's old-line factories, a government report Monday showed that profits at Chinese industrial companies fell the most in at least four years in August.
The improvement in monetary conditions is "a stabilizing signal that growth will likely moderate only slightly," to 6.8 percent this quarter from 7 percent the previous three months, said Daili Wang, a Singapore-based economist at Roubini Global Economics LLC.
— With assistance by Kevin Hamlin
(Updates to add industrial profits in the 13th paragraph.)
Before it's here, it's on the Bloomberg Terminal.
LEARN MORE