Catalans Vote as Rajoy Seeks Majority to Block Secession
by and
Polls show separatist groups with less than 50% of vote

World leaders from Merkel to Obama oppose independence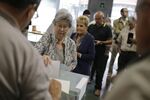 Catalans were voting on Sunday in an election that may determine whether the region pushes ahead with its campaign to break away from Spain and create a new European state.
While the 5.5 million eligible voters are officially choosing lawmakers for the 135-seat regional assembly, their president, Artur Mas, has formed a pro-independence alliance with his traditional rivals within the separatist camp in a bid to win a clear mandate for secession. Polling stations opened at 9 a.m. and voting will continue will until 8 p.m. Exit polls are due to be released shortly after the polls close.

Turnout will be key. Anti-independence groups like Prime Minister Mariano Rajoy's People's Party are betting there is a silent majority who've dodged the debate until now but want to remain party of Spain. Supporters of the separatist movement have been far more conspicuous in the run up to the vote.
"You need to vote to put an end to this mess," Rajoy told supporters at his final election rally Friday. "They want you to stay at home, like this has nothing to do with you, but it has a lot to do with you. If you stay quiet, they'll win."
The regional government reported voter participation rising to 63 percent at 6 p.m. local time, up from 56 percent at the same point in 2012. Most of the candidates had cast ballots by midday, and they urged all Catalans to vote. Mas said the result would be a plebiscite on independence.
"It's a mind-blowing turnout," Lluis Orriols, a political scientist at Madrid's Carlos III University, said in a phone interview. "There can be no debate now about the validity of what the Catalans decide."
So far, opinion polls have shown separatists in the lead, but the legal barriers to a breakaway remain high. The campaign risks seeing Catalonia excluded from the European Union and its single currency, roiling the market for Spain's 1 trillion euros ($1.1 trillion) of sovereign debt and wrenching the industrial links that tie the region's manufacturers to clients and suppliers across the continent.
"It's an issue of growing concern," said Thomas Bernd Stehling, a director at the Konrad-Adenauer Foundation, a not-for-profit organization linked to Germany's ruling party. "There is a need for dialogue between Madrid and Barcelona, and we are concerned that for whatever reason this dialogue is not the priority it should be."
Catalans living in the U.S., Mexico, Chile and part of China won't be able to to take part in the elections because their ballot papers didn't arrive on time and the electoral watchdog refused to extend the deadline, Meritxell Borras, the Catalan government's institutional relations chief, said Saturday.
Falling Short
A poll published by Cadena Ser radio station on Monday showed Mas's alliance, known as Junts pel Si, is set to win as many as 65 seats, three short of a majority. The anti-capitalist group CUP, which supports independence but refused to join Junts, was projected to win at least nine seats.
The Catalan challenge comes as Spain is recovering from its worst recession in a generation and is battling to stabilize its public debt, which is close to 100 percent of its annual output. Catalonia, which accounts for almost 20 percent of the country's economy, is a net contributor to Spain's tax system, helping to finance poorer territories such as Andalusia.
The arguments about whether to abandon Spain after, by some counts, some 500 years has opened rifts between Catalans as emotions rise in the run up to the vote.
"This is dividing Catalans, it's poison," said Miquel Izar, an 81-year-old history professor walking near Catalonia Square in downtown Barcelona Friday. "I know families that no longer speak because of this."
Secession Planning
Mas and his main separatist ally Oriol Junqueras want to use a majority in the regional assembly to force central-government officials in Madrid to the negotiating table with a view to completing secession within 18 months.
On Friday, Junqueras said that Rajoy and his PP colleagues have played into the separatists' hands, antagonizing voters with their hardline rhetoric and raising the profile of their demands by discussing them with German Chancellor Angela Merkel.
"The help that the PP and most of the Spanish parties have given us is immeasurable," Junqueras said at a news conference Friday.
The international community has lined up to oppose Mas's plans.
President Barack Obama said the U.S. wants to work with a "strong and unified Spain," while Merkel, U.K. Prime Minister David Cameron and European Commission President Jean-Claude Juncker all warned that Catalonia faced exclusion from the EU if it pushed ahead with independence.
Closing Rallies
Rajoy says that granting Catalans a formal vote on independence would be unconstitutional and last year he blocked Mas's attempts to hold a non-binding referendum with an appeal to the country's highest court.
The prime minister, whose party may lose almost half its support according to the Cadena Ser poll, threw his support behind conservative candidate Xavier Garcia Albiol as he wrapped up his campaign in Barcelona Friday
night. He was joined by Nicolas Sarkozy, the former French president, who said Europe needs a "strong, united" Spain and criticized the "weak" who want to separate and divide.
Across Barcelona, Junts pel Si celebrated the vote as an historic opportunity to finally break free.
"This vote will bring economic prosperity, social justice, solidarity,
hope, dignity and freedom," Mas told the crowd Friday night. Organizers say 70,000 people attended the event.
Before it's here, it's on the Bloomberg Terminal.
LEARN MORE