Catalonia's Push for Independence Falls Short of Majority
by and
Separatists groups control regional assembly with 48% of vote

Rajoy's PP drops to fifth as Ciudadanos draws unionist support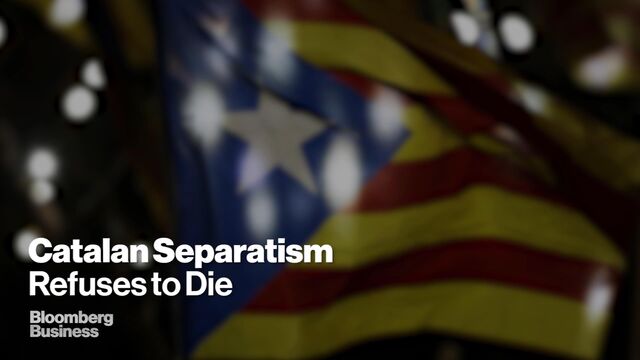 Catalonia's pro-independence parties fell short of a majority of votes in Sunday's regional election, denting their attempt to break away from Spain and create a new European state.
The Junts pel Si alliance backed by President Artur Mas and an anti-capitalist party CUP, which also backs independence, had 48 percent of the vote with 96 percent of ballots counted. With separatist parties set to wield a majority in the 135-seat assembly, Mas said the result gave those backing independence a mandate to press ahead with their campaign.
"We have a strong mandate to push ahead with this project," Mas said in a speech in Barcelona. "We will govern with a sense of bringing people together in Catalonia and goodwill toward Spain and Europe."
While the 5.5 million eligible voters were officially choosing lawmakers for the regional assembly, Mas had billed the election as a test of Catalans' will to abandon the Spanish state. Socialist leader Pedro Sanchez, who's aiming to unseat Prime Minister Mariano Rajoy in December's general election, said Mas should accept that he'd failed to win a mandate for independence and work to heal the divisions his campaign has opened up in Catalan society.
The electoral map in Catalonia has been redrawn since the last election in 2012, with the Rajoy's PP losing almost half its representation while Ciudadanos almost tripled its number of lawmakers to become the main anti-independence party. Podemos, which didn't exist in 2012, won more votes than Rajoy's party while the CUP also tripled its number of seats.
General Election
Junts pel Si and CUP won 72 representatives in the 135-seat regional assembly, giving them control of the legislature, even though a majority of voters refused to support their plan for a rupture with Spain. The focus may now switch to the Spanish general election in which an eventual defeat for Rajoy could open the way for negotiation over the Catalan question, said Angel Talavera, an analyst at Oxford Economics in London, by phone.
"The general election will be what shapes the next stage in this process," said Talavera.
The results pose a dilemma for the CUP, which won 10 seats and differs with Mas over economic policy and the timing of secession, said Antonio Barroso, an analyst at Teneo Intelligence in London by phone.
"This puts the CUP in a tough spot," he said. "Mas is a very skillful politician and he wants to be in charge of the situation and set the pace."
At the CUP headquarters in Barcelona supporters celebrated victory, chanting "independence" and applauding as each update on the count rolled in over the screens.
European Backlash
The Catalan challenge comes just as Spain is recovering from the financial crisis which has seen near-record levels of unemployment and harsh budget cuts in much of Europe fuel a backlash against establishment parties.
Syriza won a second election in Greece this month, despite diluting its opposition to austerity, while the U.K. Labour party elected perennial rebel Jeremy Corbyn as leader after an influx of supporters calling for a more robust challenge to the Conservative government's budget cuts. Marine Le Pen, leader of the anti-immigration National Front, is the most popular presidential candidate in France by some measures.
Catalans reacted to economic hardship in a similar way to the Scots, with an urge to take control of their destiny away from political masters hundreds of miles away.
Support for Catalan independence has surged since the start of the economic crisis, which coincided with a campaign by Rajoy, then opposition leader, to rein in the region's autonomy. Many separatists cite a 2010 Constitutional Court decision to rule in Rajoy's favor as the turning point for a cause that was previously a marginal concern.
Before it's here, it's on the Bloomberg Terminal.
LEARN MORE