BOE to Hold Fire Until Mid-2016 Amid China Slowdown, CEBR Says
by
Data this week may show manufacturing cooled in September

Global market turmoil casts shadow over U.K. economy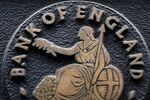 The Bank of England will keep interest rates at a record low until the middle of 2016 as the slowdown in China and emerging markets casts a shadow over the U.K. economy, a think tank said.
In a report published Monday, the Centre for Economics and Business Research said it expects policy makers to increase the U.K.'s benchmark rate in May or August, rather than in February as it previously predicted. Economic growth will slow to 2 percent next year and inflation will stay below the central bank's 2 percent target until 2017, it said.
"The global economic slowdown, driven by substantial weakness in emerging markets, most notably China, is holding back export prospects and curbing business investment," CEBR said. "If the world economy continues to falter, then these weights on growth will become even bigger."
BOE financial-stability officials warned on Friday of increasing risks from China, which roiled markets by devaluing its currency last month in response to rapidly cooling economic growth. Investors are barely pricing in a quarter-point rate increase from the current 0.5 percent by the end of next year.
Data this week may show U.K. manufacturing growth slowed in September, adding to evidence that the economy cooled in the third quarter. An index from Markit Economics slipped to 51.3 from 51.5 in August, according to the median estimate of economists in a Bloomberg survey.
Not everyone is pessimistic. In a separate report Monday, EY Item Club said cheaper oil and tax cuts should encourage British companies to keep spending. It predicted business investment will rise by 6.4 percent a year on average until 2019.
"A continued appetite among firms to invest will be good news for productivity growth, and will ensure that the expansion of the U.K.'s economy is sustainable," said Martin Beck, the group's senior economic adviser.
Before it's here, it's on the Bloomberg Terminal.
LEARN MORE