'Hotel Transylvania 2' Sets Record for September Film Debut
Anousha Sakoui and Hugh Son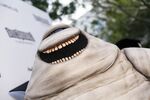 Sony Corp.'s "Hotel Transylvania 2," a sequel to the vampire-themed animated film released in 2012, set a box-office record for a September weekend debut, outdrawing two other new movies.
The family film, featuring the voices of Adam Sandler and pop star Selena Gomez, brought in $48.5 million in U.S. and Canadian theaters, Rentrak Corp. said Monday in an e-mailed statement. "The Intern," which stars Robert De Niro and Anne Hathaway, came in second, while "The Green Inferno" opened in ninth place.
With "Hotel Transylvania 2," Sony Pictures repeated the success of its first film, profiting from a dearth of family movies at theaters. Back in 2012, the original film set a September record with a $42.5 million first weekend, according to Box Office Mojo. The picture also marks a return to form for its star voice, Sandler, who has struggled in recent outings.
"It's one of those franchises that kind of flew under the radar; it didn't have the big push a summer blockbuster has," Jeff Bock, senior box office analyst at Exhibitor Relations in Los Angeles, said in a telephone interview. "Sometimes finding a hole in the schedule and filling it with a family or animated film makes all the difference. Families are a huge part of the audience."
Vampa Drac
In the latest installment, Dracula relaxes his monster-only hotel policy, opening the doors to human guests. But he worries that his half-human grandson Dennis doesn't look enough like a vampire. So "Vampa" Drac puts Dennis through a "monster-in-training" boot camp.
The film garnered 46 percent positive reviews, according to aggregator Rottentomatoes.com. It was forecast to collect $38 million in its debut, according to BoxOfficeGuru.com. The original scored 44 percent on RottenTomatoes and earned $148.3 million in U.S. and Canadian ticket sales.
"The Intern" features De Niro as a 70-year-old widower, Ben Whittaker, who is bored of retirement and becomes a senior intern at an online fashion site run by Jules Ostin, played by Hathaway. The romantic comedy generated $17.7 million at the North American box office in its debut, beating the BoxOfficeGuru estimate of $14 million.
The film scored 56 percent positive ratings from critics' reviews aggregated by Rottentomatoes.com. "The Intern" was written and directed by romantic comedy specialist Nancy Meyers and was distributed by Warner Bros.
'Green Inferno'
The weekend's third new release, "The Green Inferno," is an R-rated horror film from director Eli Roth, distributed by High Top Releasing. It collected $3.5 million against a forecast of $4 million from BoxOfficeGuru. The picture, which earned a 38 percent score on Rottentomatoes.com, tracks a group of student activists who travel to the Amazon to save the rain forest and discover that they are not alone.
A film festival entry, "Everest," widened to more than 3,000 theaters after a limited run last weekend. Jason Clarke plays Rob Hall, who operates a mountain climbing company that takes tourists to the top of Mount Everest. He takes a risk to help the climbers reach their goal. A crowded mountain, weather and fatigue lead to disaster and a battle for survival. Jake Gyllenhaal and Josh Brolin also feature.
The movie, based on a true story, added $13.2 million to its domestic total, placing fourth for Universal Pictures. It had been predicted to place second and collect $16 million. The film had a budget of $55 million, according to Box Office Mojo.
Weekend sales for the top 10 films rose 31 percent to $125.7 million from a year earlier, Rentrak said. Sales for the year to date have increased 6.5 percent to $8.18 billion.
The following table has U.S. movie box-office figures provided by studios to Rentrak. The amounts are based on actual ticket sales for Sept. 25 to Sept. 27.
                     Rev.    Pct.             Avg./   Total
 Movie              (mln)    Chg. Theaters  Theater   (mln)  Wks
================================================================
1 Hotel Transylvania $48.5    --    3,754  $12,910    $48.5    1
 2 Intern, The        17.7    --    3,305    5,364     17.7    1
 3 Maze Runner        14.3   -53    3,792    3,764     52.0    2
 4 Everest            13.2    83    3,006    4,405     23.3    2
 5 Black Mass         11.0   -51    3,188    3,460     42.1    2
 6 Visit, The          6.7   -42    2,967    2,250     52.2    3
 7 Perfect Guy         4.8   -51    1,889    2,528     48.9    3
 8 War Room            4.2   -32    1,920    2,210     56.0    5
 9 Green Inferno, The  3.5    --    1,540    2,286      3.5    1
10 Sicario             1.7   328       59   29,107      2.3    2



Top 10 Films Grosses



   This Week     Year Ago      Pct.
     (mln)         (mln)       Chg.
===================================
    $125.7         $96.1       +31



Year-to-date Revenue



     2015          2014
      YTD           YTD        Pct.
     (mln)         (mln)       Chg.
===================================
    $8,177        $7,679      +6.5
Source: Rentrak Corp.
Before it's here, it's on the Bloomberg Terminal.
LEARN MORE