Yellen Says She Feels Fine, Remarks 'I Look Good Now, Don't I?'
by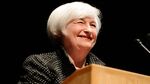 Federal Reserve Chair Janet Yellen said she felt much better now after having felt unwell during a speech on Thursday evening, following which she briefly sought medical attention.
Speaking to fellow passengers at the Hartford, Connecticut, airport on Friday before boarding a flight back to Washington, she apologized for the incident and said, "I look good now, don't I?"
She was speaking with a couple who had attended the speech the night before at the University of Massachusetts at Amherst. Yellen paused toward the end of the long lecture and appeared to lose her place in the speech. She said on Friday that she didn't feel well "for about five minutes" during her remarks.
The Fed issued a statement later on Thursday explaining the Fed chief felt dehydrated at the end of a long speech under bright lights, and was seen by medical staff on site as a precaution, before continuing with her schedule. This included dinner on the university's campus and a Bloomberg reporter later watched her depart the event and walk to her car.
Yellen, 69, was talking about inflation and monetary policy. The speech started at 5 p.m. New York time.
Before it's here, it's on the Bloomberg Terminal.
LEARN MORE