Xi, Putin Stay at Chinese-Owned Waldorf Obama Snubbed
by
Obama breaks tradition by staying at Lotte's New York Palace

Lotte is 5th largest conglomerate in S. Korea, a U.S. ally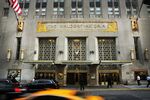 Chinese President Xi Jinping leaves the White House, where he discussed the theft of commercial secrets, and heads to New York to check in tonight at the Waldorf Astoria, where his privacy is sure to be guaranteed by the hotel's new Chinese owners.
On Sunday, Xi will be joined by Russia's Vladimir Putin, who also picked the Waldorf for his first stay in Manhattan in a decade, according to diplomats preparing for the Eurasian leaders' address to the annual seven-day session of the United Nations General Assembly.
The occupancy of two such high-profile figures, whose countries routinely vote in tandem at the UN Security Council, comes as the U.S. instead switches loyalties after a decades-long tradition of staying at the storied hotel built on a former cemetery. President Barack Obama and his entourage will relocate to South Korean-owned Lotte New York Palace Hotel for UNGA week.
The Hilton Worldwide Holdings Inc. sold the midtown hotel in 2014 to Beijing-based Anbang Insurance Group Ltd. for $1.95 billion. For now, the 42nd floor of Waldorf Towers still serves as the official residence for the U.S. ambassador to the UN.
Secure Location
While the Hilton will manage the property for the next century under the terms of its sale, Anbang's ownership and call for a major renovation raised concerns about whether the Waldorf would remain a secure location for sensitive and classified government conversations, according to two U.S. officials, who asked not to be named citing sensitivity of the matter.
Indian Prime Minister Narendra Modi and Pakistan's Nawaz Sharif are staying at the Waldorf, which is just a few blocks east of the UN campus.
German Chancellor Angela Merkel and Brazilian President Dilma Rousseff, whose personal phone calls have been spied on by the U.S. National Security Agency, instead chose lodgings farther north from Turtle Bay in east Midtown. 
Merkel will be getting her beauty sleep at the Mandarin Oriental in Columbus Circle, and Rousseff at the Plaza Athenee in Lenox Hill.
(Corrects to remove reference to South Korean president in sixth paragraph.)
Before it's here, it's on the Bloomberg Terminal.
LEARN MORE