VW Dealers Fret About Resale Value as Buyers Turn a Blind Eye
by and
Dealers brace for ripple effects to reach European market

Owning up may go some way toward regaining customer trust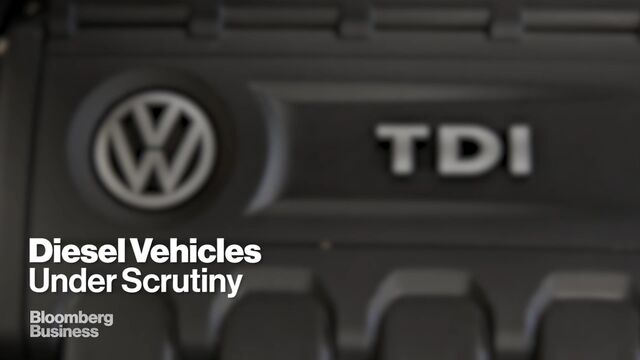 Volkswagen AG's diesel-test cheating in the U.S. wiped about 35 percent off the carmaker's shares this week. Dealerships in Europe are worried their resale margins will go the same way.
"We'll have to wait and see how the residual value of cars will be affected," said Klaus Holzer, a service head at Auto Wichert, which operates 16 VW franchises in the Hamburg metropolitan area. "It will depend on how Volkswagen manages to put the record straight."
As VW's admission that it duped U.S. regulators on emissions reverberates throughout the automotive industry, dealers like Holzer are bracing for the backwash. Customers have begun to ask whether their models are affected too, he said. The tampering affects about 2.8 million vehicles in Germany, Transport Minister Alexander Dobrindt said in Berlin on Friday.
"At least for now we believe that possible manipulations can come to light here, too," Dobrindt said. "That's being further discussed in the current talks with Volkswagen."
Special Software
While VW used special software to fool U.S. authorities, the rules in Europe are less clear cut. The European Union allows manufacturers to optimize results with tactics such as stripping the car of excess weight or removing the air conditioner.
Diesel models are more popular in Europe than in the U.S. thanks to 30 percent better mileage and fuel prices that are lower than gasoline. Diesel-powered vehicles accounted for 53 percent of new cars registered in EU countries last year, according to the ACEA industry group. In the U.S., the models have just a 1 percent market share.
Although diesel fuel is dirtier than gas, it provides more torque, offering higher towing power and better acceleration from standstill. The cheaper running costs mean manufacturers can sell diesel cars for a premium, keeping a portion of the expected savings drivers can generate at the pump.
"The only option we have is to react to what the big corporation is doing,´´ said Holzer. "It's up to Volkswagen to determine what direction they want to go with their partners, including the German dealers."
Got Caught
For drivers like Kevin Robertson, browsing a dealer's lot in London, VW is simply the one that got caught.
"I think everyone's at it," said Robertson, adding that while he's drawn by the look of VW cars, the scandal would put him off buying a VW vehicle now.
One 32-year-old driver unperturbed by the scandal was celebrating signing the paperwork on a new VW car. "I'm not too worried about it," said the man called Oliver, declining to give his last name. "The cars are just as good as they were a week ago."
Accepting the blame for the missteps, Chief Executive Officer Martin Winterkorn resigned on Wednesday after almost nine years at the helm. The supervisory board is set to install Porsche brand chief Matthias Mueller as the new CEO and announce the departure of other top executives in a sweeping overhaul on Friday, according to people familiar with the matter.
Owning up may go some way toward regaining customers' trust, said Kevin Allen, a 54-year-old corporate director from Norwich, England.
Golf R
"When you get caught you have the choice -- you can deny it or you apologize," said Allen, who was checking out the Golf R Variant at the VW booth at the Frankfurt car show. "They've apologized, and the CEO is gone. That will earn them credit for an honest reaction. People will respect that."
For now, Allen is staying loyal to the brand. He traded in a Mercedes-Benz E-Class for VW's Golf R, the first car he's owned that he'd consider purchasing again, he said.
"It's really two cars in one -- a perfect hatchback for a weekend trip with your wife, and then when you go on the motorway, it runs like a sports car," said Allen, on his fifth visit to the biennial Frankfurt show in 10 years. "It makes me feel good every time I drive it. VW's quality is consistently high compared with other brands. Others are trying to copy it, but usually fall short just a little bit."
The fallout may be less severe for VW than other automotive companies emerging from major scandals, said Allen. "For the general public, it's not an issue," he said.
Criminal Probe
General Motors Co. is set to settle a criminal probe by the U.S. Justice Department over an ignition switch flaw that was linked to at least 124 deaths and prompted the recall of 2.59 million vehicles, a person with knowledge of the deal said last week.
Takata Corp., the maker of air bags that have been linked to at least five deaths in the U.S., said in May it would double the number of cars to be repaired to 34 million and submit its parts to government testing as part of an agreement with investigators.
In the VW engine-test scandal, "it's not that people's lives have been endangered," said Allen. "It's similar to the mileage per gallon -- you can never reach what it says in the brochures, and every manufacturer does it like that. I cannot believe that others did not do this."
For car dealer Holzer, the choices are limited.
"Whether I'm at the bank or a local restaurant, people always ask me 'how's business these days'," he said. "I tell them life must go on."
Before it's here, it's on the Bloomberg Terminal.
LEARN MORE