Shameless ECB's High Banknotes Finance Drug Deals, Goodhart Says
by
Former BOE official criticizes high denomination bills

Abolishing 500-euro note might help trim interest rates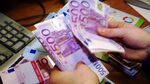 The central banks of the euro area and Switzerland are being shameless by issuing high-denomination banknotes that facilitate drug deals, Charles Goodhart said.
The former Bank of England policy maker told an audience in London that bills such as the Swiss National Bank's 1,000-franc ($1,019) note and the European Central Bank's 500-euro ($558) note should be abolished, a move that might also prove beneficial by trimming interest rates.

"There is no value whatsoever, except in seigniorage receipts to a number of small Swiss cantons, in the Swiss National Bank and the ECB issuing these vastly high-denomination notes which are there to finance the drug deals," Goodhart told the inaugural Money Macro and Finance Group annual conference.
A spokesman for the SNB declined to comment. A spokesman for the ECB didn't immediately provide comment.
Such concerns have festered for years. In 2010, U.K. banks and money-exchange services stopped distributing 500-euro notes after a report showed that 90 percent of demand for them came from criminals. An internal Bank of Italy study the previous year described how such bills were accumulated by mafia money launderers, terrorists and tax dodgers because they're easy to hide and transport.
Rate Benefit
"Let's get rid of all high-denomination notes as a starter," Goodhart said. "If we were limited to low-denomination notes, at any rate because of the costs of stockpiling and all the rest we can drive interest rates a little bit further down."
The Bank of Italy study described how the 500-euro note aided criminals in carrying cash: as much as 6 million euros can fit in an overnight bag, and 10 million euros in a 45-centimeter (18-inch) safe-deposit box, according to the report.
Former BOE Deputy Governor Charlie Bean also addressed the subject at the conference, saying he is "all in favor of getting rid of big-denomination notes, which are used in the black economy."
Goodhart poured scorn on the institutions responsible for the issuance of such bills.
"Central bankers are sometimes absolutely shameless, and the Bundesbank and the ECB and the Swiss National Bank are absolutely shameless in this regard," he said.
Goodhart's comments coincide with reflections this month by Bank of England Chief Economist Andy Haldane, who explored the potential interest-rate advantages of abolishing paper currency.
"It has the added advantage of taxing illicit activities undertaken using paper currency, such as drug-dealing, at source," Haldane said.
Before it's here, it's on the Bloomberg Terminal.
LEARN MORE