Pope Seeks to Influence Climate Talks in UN Speech to Leaders
by
Francis arrived in New York after addressing U.S. Congress

Catholic leader frequently decries environmental destruction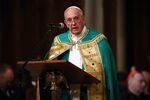 Pope Francis will wage his crusade against climate change from a truly global platform on Friday with an address to world leaders at the United Nations in which he is expected to demand urgent action to protect the vulnerable, the excluded and the planet itself.
After challenging the U.S. Congress to show more compassion for immigrants and the poor on Thursday, the leader of 1.2 billion Roman Catholics will address the General Assembly in New York to push for a successful outcome for climate talks to be held in Paris under UN auspices in December.
"The key issue for Francis at the UN will be climate change, he wants to pressure world leaders to take action," Christopher Lamb, a Vatican watcher for Catholic weekly The Tablet, said in an interview. The 193-member assembly hall "gives him a fantastic platform to push his views."
Before an audience including more than 20 heads of state and government, and speaking in his native Spanish, the first Latin American pontiff is also expected to call for a fairer world economic system, and condemn human trafficking and religious persecution across the globe.
Expect the Argentine pope, who after his election adopted the name of the patron saint of ecology, to adopt a tone more earnest than accusatory.
"I think he will make a passionate call for action, and he will lay down a big challenge for world leaders to come to an agreement," Lamb said. "In a way, he'll be giving out advice on global leadership."
Courting Controversy
Francis triggered controversy in June, especially in the U.S., when he blamed a "spiral of self-destruction" on rich nations and the global economy in an encyclical -- a letter to bishops -- entitled "Laudato Si,' or "Praised be" in Latin. He accused the world's political chiefs of prioritizing "their own national interests rather than the global common good."
Francis should "leave science to the scientists," retorted Republican presidential candidate Rick Santorum at the time.
But Francis returned to the fray in Washington earlier this week, flagging his support for President Barack Obama's initiative to reduce air pollution at a White House welcoming ceremony, then urging before Congress the "right use of natural resources" to protect the environment against climate change caused by human activity.
Captive Audience
For economist Jeffrey Sachs, the pope's words won't fall on deaf ears. 
"He is looked to by a large and growing part of humanity for moral and spiritual guidance on how to address many social ills, and his encyclical is being read and studied extensively around the world," said Sachs, who works with the Pontifical Academy of Sciences, which advises Francis on economics and the environment.
Later on Friday, Francis will take part in an inter-faith event at Ground Zero, visit a school in Harlem and celebrate Mass in Madison Square Garden. He will attend the World Meeting of Families in Philadelphia this weekend before flying back to Rome on Sunday.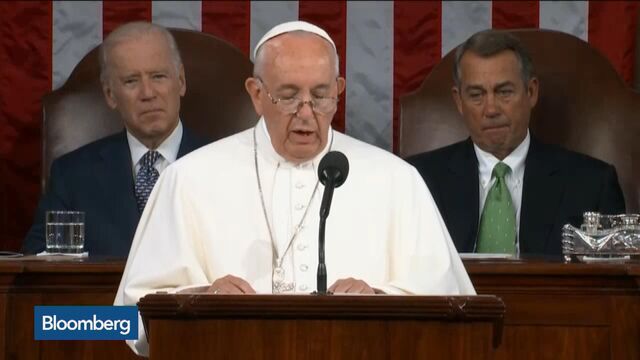 For more, read this QuickTake: Pope Francis
Before it's here, it's on the Bloomberg Terminal.
LEARN MORE