Pope's Choice of Ride on U.S. Visit Sparks Interest in Fiat 500L
by
Car's Kelley Blue Book searches have risen 50% in recent days

Fiat sales have been lackluster since brand expanded to U.S.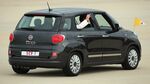 During his first trip to the U.S., Pope Francis has spoken in support of efforts to reduce poverty, welcome immigrants, and abolish the death penalty, but another endorsement is gaining attention as well: his ride.
The 78-year-old pontiff has thrown a spotlight on the Fiat 500L compact cars that he's been using on his six-day tour, which includes stops in Washington, New York and Philadelphia.

"We've been inundated with calls," said Kathy Finn, brand manager for Fiat Chrysler. "Customers are calling surprised at how spacious the car is and asking about that particular model."
Fiat Chrysler Automobiles NV, the London-based automaker whose brands also include Jeep, Ram and Ferrari, has had lackluster sales since bringing the car to the U.S. Through August this year, sales of the 500L have dropped 19 percent from a year earlier, to 6,695. That's steeper than the 12 percent decline in sales of the three-model Fiat brand. Dealers are hoping the papal publicity can give those figures a lift.
"The fact that the Vatican chose a Fiat 500L speaks volumes for the brand," said Patrick Monninger, dealer principal at Fiat of Manhattan. "I think we'll see a month-to-month sales gain as the company goes forward. This only helps."
Searches for Fiat and the 500L on Kelley Blue Book's website have risen 50 percent in recent days, said Chintan Talati, a spokesman for the car-pricing site. However, the pope's impact may be short-lived, he said.

Short-Term Memory
"The car buyer has such a short-term memory, so anything that's going to happen with Fiat will happen in the next week," Talati said.
Francis's choice of vehicle aligns with the message of his speech at the White House Wednesday, which touched on the urgency of protecting the environment and praised President Barack Obama for taking steps to reduce air pollution. The 2015 Fiat 500L gets a combined 30 miles per gallon, above the 25.3 mpg average for new vehicles sold in August, according to the University of Michigan.
"Climate change is a problem which can no longer be left to a future generation," Francis said during the speech.
Francis has a record of choosing modest means of transportation and forgoing larger security vehicles or limousines. In Rome, he travels in a Ford Focus. As a cardinal in Argentina, he usually rode the subway.
Before it's here, it's on the Bloomberg Terminal.
LEARN MORE