Peugeot, Renault Set to Be Hit by Fallout From VW's Diesel Dupe
by
Diesel may fall to 35% of European car market from 53% in 2014

Peugeot, Renault seen suffering most in a diesel-demand drop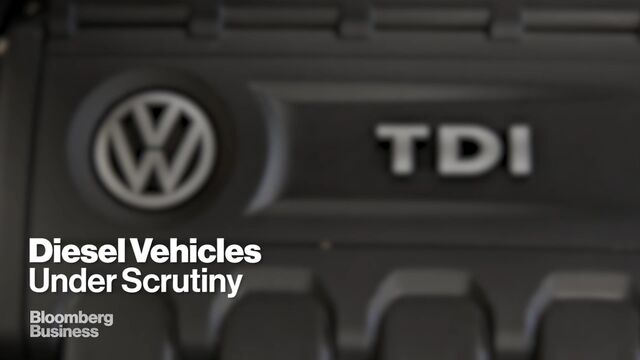 Volkswagen AG's admission that it rigged diesel engines to fool regulators is set to accelerate the technology's decline in Europe, hitting not just the German carmaker but also competitors PSA Peugeot Citroen and Renault SA.
The French manufacturers rely on diesel-powered vehicles for at least 60 percent of their European sales. With the fuel systems already under attack in the region because of pollution concerns, VW's so-called dieselgate scandal could cause the technology's market share to drop to as little as 35 percent of cars sold in Europe in 2022 from 53 percent in 2014, according to industry consultant LMC Automotive.

"Europe will go down particularly in the segment for smaller cars," said Sascha Gommel, a Frankfurt-based analyst at Commerzbank AG. With compacts like the Peugeot 208, Renault Clio and VW Polo, "you can't charge your customer for the additional content that needs to go in the car in order to comply with regulation."
A backlash against diesel by consumers and more stringent scrutiny from regulators would make it even tougher for carmakers in Europe to meet tightening rules on fuel consumption and carbon-dioxide emissions. That might mean an accelerated shift to hybrids, which are costly to produce because they contain combustion engines as well as electric motors.
Better Mileage
Still, the backing for diesel remains, not least because of lower operating costs for drivers. Almost all European Union countries tax the fuel less than gasoline, and it offers about 30 percent better mileage. And Germany's manufacturers aren't giving up, either.
"We still care about diesel," Rupert Stadler, chief of Volkswagen's Audi brand, said at a conference Thursday in Frankfurt. "The customer has decided that diesel offers the most attractive cost of ownership. So diesel should not be demonized."
Diesel-powered models accounted for 53 percent of new car registrations in EU nations in 2014, down from 55 percent in 2011, according to the European Automobile Manufacturers' Association, or ACEA. That compares with about 1 percent in the U.S.
Unlike German luxury-auto producers Audi, Daimler AG's Mercedes-Benz and BMW AG, Renault and Peugeot offer mass-market diesel hatchbacks and compact cars, on which margins are lower.
Stocks Drop
Since the the VW scandal broke a week ago, Peugeot's shares have plunged 15 percent and Renault has dropped 12 percent, wiping out a combined 4.6 billion euros ($5.1 billion) in market capitalization. The two French manufacturers, along with Fiat Chrysler Automobiles NV and General Motors Co.'s Opel, are most likely to be hurt by any European contraction in demand for diesel cars, Gommel of Commerzbank estimates.
"The current lack of trust doesn't affect only affect Volkswagen," French Prime Minister Manuel Valls said Friday at a press conference on global warming in the French Alps, according to Agence France-Presse newswire. Even so, "there's no question of this lack of trust being allowed to hurt growth and the development of our car industry."
The second best-selling diesel car in Europe this year will be Renault's Clio hatchback with more than 286,000 vehicles sold, LMC Automotive estimates. While none of its diesel models is in the LMC top 10, Peugeot, Europe's second-biggest automaker, relies heavily on the vehicles, which accounted for 68 percent of its deliveries in the region last year. That proportion stood at 60 percent for Renault.
"We have the industrial capacity to adapt to the new demand," Renault spokesman Bruno Moreau said in a text message. "And we're a leader in the electric-vehicles market," along with Japanese partner Nissan. Pierre-Olivier Salmon, a Peugeot spokesman, declined to comment.
Before it's here, it's on the Bloomberg Terminal.
LEARN MORE