Glencore Said to Hire Banks to Sell Stake in Grains Unit
by
Commodities trader mandates Citigroup and Credit Suisse

Talks under way with dozen wealth funds, Asian trading houses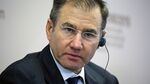 Glencore Plc hired Citigroup Inc. and Credit Suisse Group AG to sell a minority stake in its agricultural business, a deal that could value the whole division at as much as $12 billion, according to a person familiar with the situation.
The Swiss-based company is in talks with about a dozen sovereign wealth funds and Asia-based trading houses, according to the same person, who asked not to be identified because the negotiations are private.
The sale is part of a debt-cutting program by Glencore's billionaire Chief Executive Officer, Ivan Glasenberg, announced in early September. The plan included selling $2.5 billion of new stock, asset sales, spending cuts and suspending the dividend. Taken together, the measures aim to reduce the company's debt from $30 billion to $20 billion.
Glencore is likely to sell the minority stake to a group of sovereign wealth funds and Asian trading houses, rather than to a single party, the same person said.
A Glencore spokesman declined to comment.
Agriculture Unit
The company estimates the agriculture unit is worth about eight to 11 times earnings before interest, tax, depreciation and amortization, the person said. Glencore's agricultural business generated Ebitda of $1.21 billion last year and $332 million in the first half of 2015.
Glencore shares fell 1.4 percent to close at 97.22 pence in London. The stock earlier touched an all-time low of 95 pence, before briefly rallying as much as 8 percent after the news of the grain unit sale. It sold shares in an initial public offering at 530 pence in May 2011.
The company believes that a group of investors could provide its agricultural unit with the funding to grow further -- something that Glencore would struggle to do alone after the price of key commodities such as coal and copper plunged.
Glencore became a major agriculture player when it bought Canadian grain handler Viterra Inc. for C$6.1 billion ($4.6 billion) in 2012. Nonetheless, it still has no presence in the most important grain market of all: the U.S.
Recent Deals
The commodities industry has seen a flurry of deals in agriculture over the last three years as Middle Eastern and Asian buyers step into the market. The deals include Mitsubishi Corp. paying about $1 billion for a 20 percent stake in food trader Olam International Ltd. last month.
The agricultural trading industry has long dominated by U.S. and European houses, in particular a group known as "ABCD" for the initials of Archer-Daniels-Midland Co., Bunge Ltd., and Cargill Inc. and Louis Dreyfus Commodities.
In April, a Saudi state-owned company partnered with Bunge to buy a majority stake in the former Canadian Wheat Board. The C$250 million ($203 million) deal gave Riyadh access to grain exports from Canada.
Other deals in agriculture involving Asian and Middle East buyers include Marubeni Corp., one of Japan's top-five trading houses, buying U.S. grain merchant Gavilon Holdings LLC in 2013 for $2.7 billion plus debt to expand in North America.
Cofco Spending
Cofco Corp., China's largest food company, also spent $3.5 billion last year to build a global trader, acquiring controlling stakes in Noble Group Ltd.'s grains arm and Nidera BV.
Chris Mahoney, a member of a British rowing crew that won silver in the 1980 Moscow Olympics, heads Glencore's agriculture division and oversaw the takeover of Viterra. The company is now one of the world's two leading traders of wheat, handling about a fifth of the global seaborne trade.
Glencore is among the top three agricultural exporters in Russia, the European Union, Canada and Australia.
Peter Grauer, the chairman of Bloomberg LP, the parent of Bloomberg News, is a senior independent non-executive director at Glencore.
Before it's here, it's on the Bloomberg Terminal.
LEARN MORE