business
China Just Took Away Our Biggest Excuse on Climate Change
And five other things that made this a colossal week for the fight against global warming.
By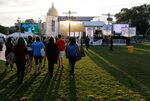 To say it was a big week for those concerned about climate change would be an understatement. Here are the six most noteworthy developments.
1. China steals our excuse
Chinese President Xi Jinping announced that China will start a national pollution-trading system to cut global-warming emissions for its most polluting industries. That's in addition to previous Chinese commitments to bring its emissions to a peak by 2030 and radically scale up solar and wind power. China even promised $3.1 billion to help poorer countries move away from fossil fuels. 
The new initiatives take away the biggest U.S. excuse for dragging its feet on climate change: that we can't do it alone. It's a common refrain among Republican presidential candidates. "America is not a planet," said Senator Marco Rubio, in a recent televised debate. "We are not even the largest carbon producer anymore. China is. And they're drilling a hole and digging anywhere in the world that they can get a hold of." 
2. The pope talks to America
To Congress, to the U.S. clergy and laity, to the U.N., to 1.2 billion Catholics worldwide, even to non-believers, Pope Francis's message was clear: Climate change is a moral problem and everyone's responsibility. He called on world leaders to set aside partisan and ideological interests in the name of "a higher degree of wisdom."
"The ecological crisis, and the large-scale destruction of biodiversity, can threaten the very existence of the human species," Francis said. The pope's visit comes at a delicate time in climate negotiations. UN envoys are in the final steps toward a landmark global agreement, with almost 200 nations, to start reining in fossil fuel emissions. Final talks are set for December in Paris. 
3. Volkswagen tanks
One of the biggest scandals ever to hit the automotive industry unfolded this week after Volkswagen admitted to installing software that allowed some 11 million diesel cars to cheat on emissions tests. The company had charged a premium for what it marketed as environmentally friendly vehicles. In the U.S. alone, the deceit was the equivalent of an extra 19 million pollution-spewing vehicles on the road. The CEO stepped down and the stock was crushed. Read how the crisis unfolded on the Bloomberg Twitter stream. 
One company that isn't worried: Tesla, which makes only exhaust-free electric vehicles. CEO Elon Musk pointed out that while the cheating was "obviously bad," the bigger pollution scandal is gasoline cars in general. 
 4. There are no more skeptics (or deniers)
The Associated Press, which many news organizations look to for style guidance, is scrapping the terms climate skeptics and climate deniers. Their reason for the former is that it tarnishes the word skepticism, a trait that's valued in the scientific community, by lumping it in with people who simply deny the overwhelming scientific consensus around climate change. Their reason for dropping deniers is the association with the term holocaust deniers.
AP: "Our guidance is to use climate change doubters or those who reject mainstream climate science and to avoid the use of skeptics or deniers."
5. India makes a move
Perhaps the biggest laggard in the ongoing UN climate talks has been India, one of the world's fastest-rising polluters. But news dribbled out this week that India may be about to make its own very aggressive commitment. Full details haven't been released, but it's reported to include a reduction in emissions intensity by 35 to 40 percent and a massive expansion in wind and solar power. 
6. Clinton comes out against Keystone
Hillary Clinton's decision to come out against the Keystone pipeline project is probably of more political than environmental consequence. The decision was praised by environmentalists and may portend a willingness to wade more deeply into other controversial policies to curb greenhouse gases. It also gave opponents an opportunity to attack. 
Before it's here, it's on the Bloomberg Terminal.
LEARN MORE