Catalonia's Election: The Grapes of Independence
Winemaker Albet i Noya hopes 2015 will be a vintage year for Catalonia.
Tom Mackenzie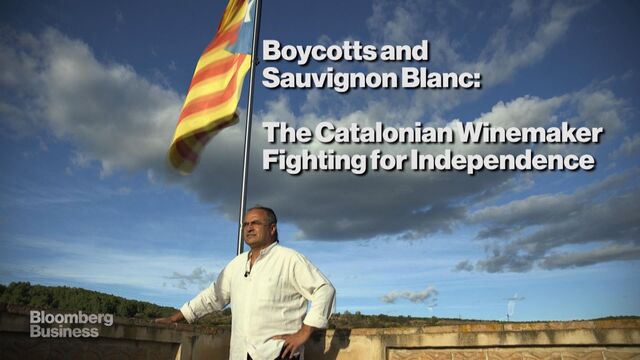 The roots of the vines surrounding the Albet i Noya winery on the western slopes of Catalonia's Ordal mountains penetrate deep into the earth, clawing their way through clay and calcareous stone.
'The soil here is perfect for vines," says Josep Maria Albet i Noya, the fourth generation of his family to run this vineyard. "And this year the conditions were fantastic. I think 2015 will be a very good vintage."
Albet i Noya, tanned with thin rimmed-glasses and a pony-tail, also hopes 2015 will be the year Catalonia starts to secede from Spain. Regional elections on Sunday are being cast as a de-facto vote on independence.
"We want to have control of our own lives, our own culture, our own language," he says, striding between the vineyards, stopping occasionally to sample the grapes. "This is a once in a generation chance."
Albet i Noya says he faces "discrimination" from Spanish officials and wine buyers. He tells the story of a distributor in Madrid who asked him to change the language on his labels from Catalan to Spanish. "I told him, this is my language, this is authentic," he said. "They really just don't understand."
The winemaker, whose castle-like home is topped with a pro-independence flag, also revealed he closed his account at Spanish lender BBVA this week after the bank, along with others, warned of the economic risks of independence.
"Today I took all my money out of BBVA and put it into Deutsche Bank," he said. "It's my way of punishing the bankers for taking a side in this debate."
---

WHO: Artur Mas, regional president, wants to begin secession process and push for more powers
WHAT: Regional election being seen by many  Catalans as the definitive vote on independence from Spain
WHERE: Catalonia polling places. With plenty of added interest in Madrid (and Scotland)
WHEN: Sunday Sept. 27. Voting ends at 8 p.m, with results due in within a few hours
WHY: Although Catalan independence is a long way off, the size of Spain's sovereign debt dwarfs that of Greece. Instability in such a large EU nation could spook the markets, as well as encouraging the pro-independence movement in Scotland.
Before it's here, it's on the Bloomberg Terminal.
LEARN MORE