Yellen's Fine After Appearing Unwell During Massachusetts Speech
by and
Appeared 'lively' at a dinner following speech, attendee says

Yellen was seen by medical staff as a precaution, Fed says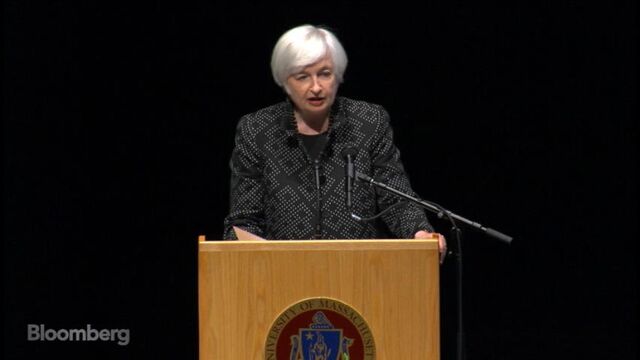 Federal Reserve Chair Janet Yellen is resuming her planned schedule after feeling unwell toward the end of a speech she was giving Thursday at the University of Massachusetts at Amherst, Fed spokeswoman Michelle Smith said in an e-mailed statement.
"Chair Yellen felt dehydrated at the end of a long speech under bright lights," Smith wrote. "As a precaution, she was seen by EMT staff on-site at U-Mass Amherst. She felt fine afterward and has continued with her schedule Thursday evening."
Yellen was heading to a planned dinner, school spokesman Ed Blaguszewski separately said, after conferring with economics department head Michael Ash, who had been with the Fed chair. A Bloomberg reporter later witnessed her leaving the event and walk to a waiting car.
Yellen appeared well at the dinner, spent part of the event on her feet, and was "lively" and "seemed fine," according to Gerald Epstein, an economics professor at U-Mass who attended the dinner with the Fed chief. She said she was dehydrated and "feeling woozy" at the end of the speech, Epstein said.
Toward the end of her speech, Yellen paused after flipping a page while talking about labor market slack. She began to speak again after a brief pause, but her speech was stilted and she stopped several more times and coughed. She ultimately finished the talk, but paused on stage for several seconds before exiting behind a curtain. 
Yellen, 69, was talking about inflation and monetary policy. The speech started at 5 p.m. New York time.
Before it's here, it's on the Bloomberg Terminal.
LEARN MORE